Chambers High Net Worth Guide Ranks LP Trusts & Estates Group Among Best in Illinois for Seventh Straight Year
---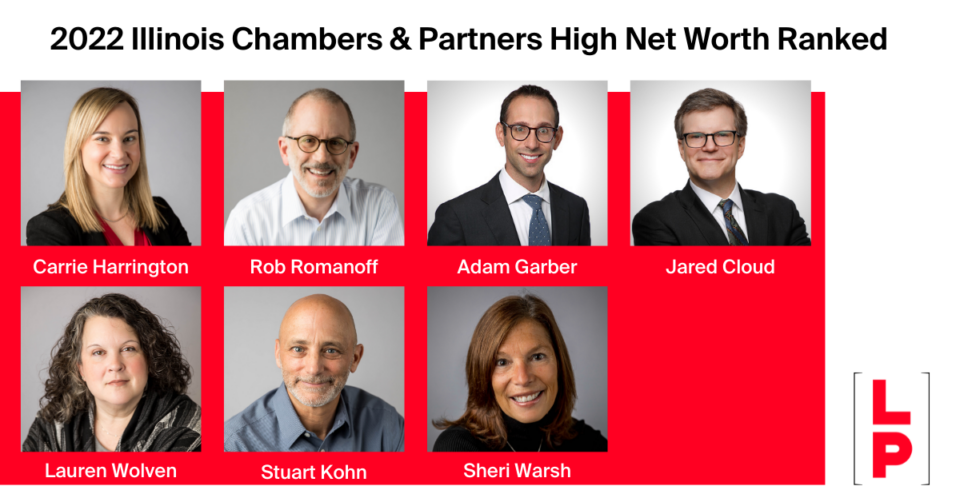 CHICAGO, July 14, 2022 – Levenfeld Pearlstein is pleased to announce that, for the seventh consecutive year, its Trusts & Estates Practice Group has been ranked among the best in Illinois by the Chambers High Net Worth Guide. Partners Adam Garber, Carrie Harrington, Lauren Wolven, Robert Romanoff, Sheri Warsh, and Stuart Kohn were all recognized for their work in Private Wealth Law in Illinois. Additionally, Jared Cloud was ranked in the category of Private Wealth Disputes in Illinois, and Lauren Wolven was also recognized for her in skills in Private Wealth Law in the Central Region of the U.S.
The only legal ranking publication specifically aimed at the international private wealth market, Chambers High Net Worth Guide gathers substantive feedback from clients and peers from across the nation. One source described LP attorneys as having "exceptionally high level of experience with sophisticated tax, trust and estate matters." Others echoed this praise, saying "[e]veryone we have worked with in all areas of the firm has been top-notch." 
The observations gathered regarding LP's individually ranked attorneys included similar praise:
Jared Cloud was recognized for being "thorough and remarkably creative from a litigation strategic viewpoint."
Adam Garber was praised for his "terrific blend of sophisticated legal knowledge, responsiveness, efficiency and likability." Another commenter added that he is a "really skilled technician in terms of estate and trust law, who can dive in to analyze complex questions."
Carrie Harrington, who is chair of the Trusts & Estates Group, was recognized for her "experience and sophistication." Another interviewee also remarked that she is "very energetic and very good with clients."
Stuart Kohn was referred to as a "top-tier professional," with a source saying that he is "great at explaining complex concepts to clients in a very simple way." 
Robert Romanoff was praised by clients for his responsiveness and guidance. One client noted that he "is always available to provide insight and guidance on complex issues." Another client said, he is "outstanding to work with. He is extremely knowledgeable, responsive and has a great demeanor with our team."
Sheri Warsh was recognized for her "wonderful mix of both personality and knowledge when it comes to estate planning." The source also said she "makes clients feel extremely comfortable and is easy to talk to and share things with." Another interviewee noted, "She can handle anything from helping clients understand the basics of estate planning to tackling complex wealth strategies in a time-sensitive way."
Lauren Wolven was acknowledged as a go-to attorney, with one commenter saying, "I know that she will provide my clients expert guidance and great service." states a market commentator. Another interviewee said that she is a "national name and a star in the legal community," adding that "clients absolutely love working with her."
The 2022 edition of Chambers High Net Worth rankings is based on in-depth interviews with clients and attorneys assessing legal knowledge and experience, ability, effectiveness, and client service. Learn more about the methodology here.
About the Trusts & Estates Group
The Trusts & Estates Group at LP helps individuals and families achieve their business and personal goals, whether through gift planning, charitable planning, business succession planning, or estate planning. The group, which includes six members of the American College of Trust and Estate Counsel, drafts basic estate plans as well as plans spanning multiple generations, states, and businesses.
---
Related insights