LP Promotes Four Attorneys—Juliann Schwartz Hathaway, Adam Kahn, Erin Mayer, and Victoria Zhou—to Partner
---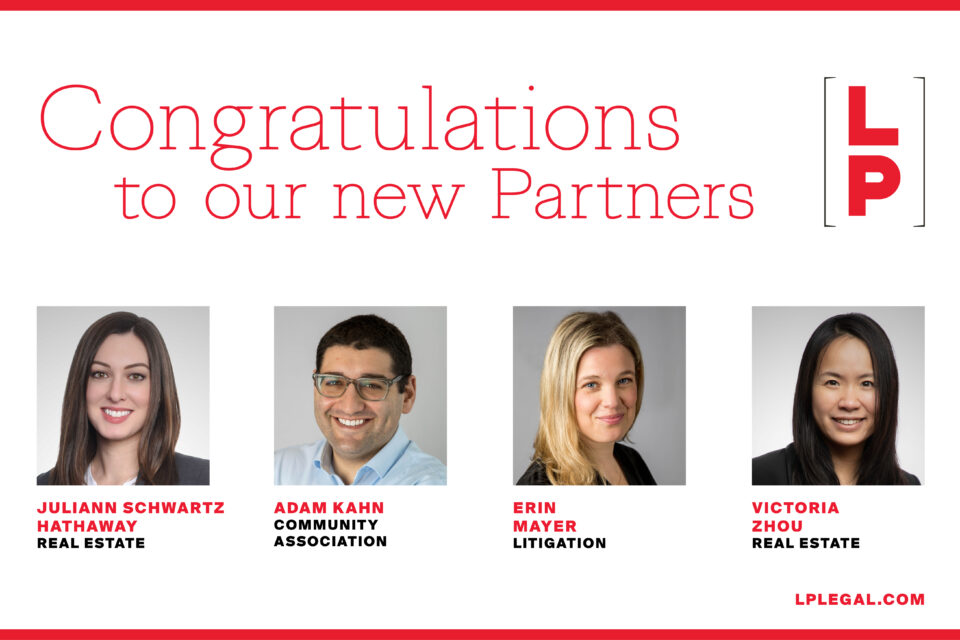 CHICAGO, IL, January 1, 2023 – Levenfeld Pearlstein, LLC (LP) is pleased to announce that the following four attorneys have been promoted to partner, effective January 1, 2023: Juliann Schwartz Hathaway, Adam Kahn, Erin Mayer, and Victoria Zhou.
Juliann Schwartz Hathaway has been promoted to partner in the Real Estate Group. She represents property owners, tenants, developers, investors, and financial institutions in various commercial real estate transactions, including real estate financings, acquisitions and dispositions, leasing, and development. Schwartz Hathaway has extensive experience reviewing, drafting, and negotiating complex loan documents, lease agreements, and purchase/sale agreements across asset classes, including multi-family, industrial, office, retail, and hospitality.
Adam Kahn has been promoted to partner in the Community Associations Group. Kahn helps cooperative, condominium, and homeowners associations navigate various legal, financial, and commercial issues. A pragmatic, trusted advisor with a patient and fair approach to problem-solving, Kahn regularly advises association boards, including attending board meetings and offering common sense solutions to governance challenges. He also has extensive experience reviewing, negotiating, and modifying various agreements.
Erin Mayer has been promoted to partner in the Litigation Group. She guides clients through all facets of a case, from discovery to trial. Mayer also works with clients to develop various employment documents and helps them understand and meet their obligations under employment laws while still adhering to their larger business goals. She especially enjoys working with clients to effectively address their issues and help resolve their matters in the most efficient way possible.
Victoria Zhou has been promoted to partner in the Real Estate Group. She represents investors, owners, and operators in all aspects of sophisticated commercial real estate transactions, including joint ventures, acquisitions and dispositions, and financing. Zhou has extensive experience handling investor-side transactions, platform joint ventures, management restructuring, and portfolio acquisitions and dispositions. In addition, she has handled projects related to industrial, student housing, retail, healthcare facilities, hospitality, multi-family, and mixed-use properties.
"At LP, we are committed to developing, empowering, and promoting the next generation of leaders," said Jeffery Hoffenberg, Managing Partner of LP. "Each of these attorneys has demonstrated a commitment to providing an unsurpassed client experience, a dedication to advancing the firm's goals, and substantial experience in their respective practice areas. We are thrilled to promote them to the role of partner."
**********
About Levenfeld Pearlstein LLC: Chicago-based Levenfeld Pearlstein, LLC provides legal and business counsel to sophisticated clients across a broad range of corporate, tax, real estate, estate planning, and litigation matters. LP works with clients to understand the full impact of the law on their businesses and proactively addresses their legal issues so that they can quickly return to doing what they do best. While the firm possesses the resources and depth necessary to manage the most complex matters as efficiently and cost-effectively as possible, it truly differentiates itself through its commitment to "The LP Way" – the firm's model for creating an unparalleled client experience at an exceptional value.
Visit our website at www.lplegal.com, and follow us on LinkedIn at @levenfeld-pearlstein.
---