Levenfeld Pearlstein Continues Growth with Trusts & Estates Partners Mari Berlin and Grant Hendricks
---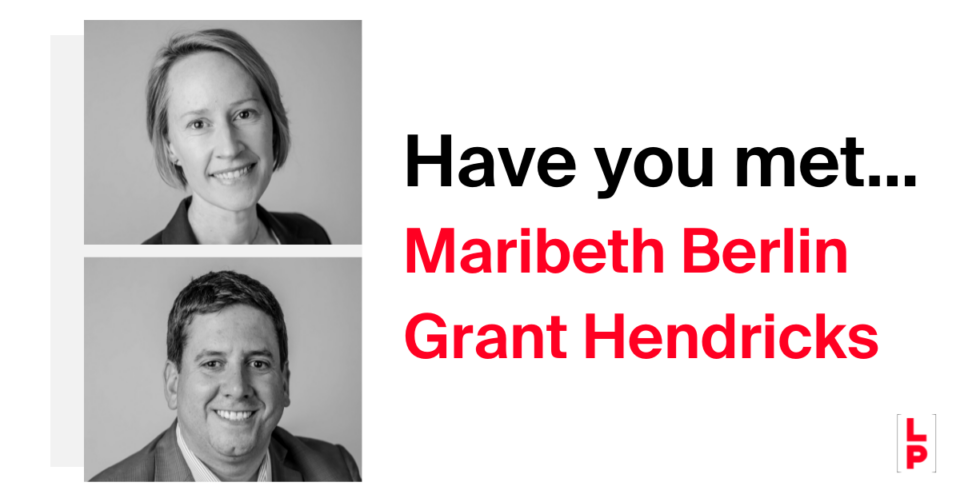 CHICAGO, May 25, 2022 –Levenfeld Pearlstein is delighted to announce that Mari Berlin and Grant Hendricks have joined the firm as Partners in its Trusts & Estates Group.
Berlin's practice focuses on advising high-net-worth families on various estate and tax planning matters. She develops comprehensive, tailor-made plans and structures complex estate and gift tax planning strategies to preserve and transfer wealth. She counsels clients on post-SECURE Act estate planning, Medicaid asset planning, and has experience representing fiduciaries, wards and individuals in contested estate cases.
In addition to counseling clients on a wide range of estate planning and wealth transfer strategies, Hendricks advises financial institutions on fiduciary matters and administers the estate settlement process for estates ranging from $10 million to $300 million. His clients include business owners, corporate and individual fiduciaries, charitable organizations, families and individuals. He has deep experience in the administration of trusts and estates from both legal and business perspectives.
"As our Trusts & Estates practice continues to expand, we are thrilled to welcome Mari and Grant," said Carrie Harrington, chair of the Trusts & Estates Group. "Their depth of experience representing individuals, families and fiduciaries will enable us to meet our clients' evolving needs while continuing to prioritize providing an unparalleled client experience."
The addition of Berlin and Hendricks is part of the Trusts & Estates Group's intentional and strategic growth, including the addition of Jared Cloud to the group.
Prior to joining LP, Berlin was a partner with a boutique estate planning and elder law firm in the Chicagoland area and Hendricks was a partner with Horwood Marcus & Berk.
LP's Trusts & Estates Group helps individuals and families achieve their business and personal planning goals, whether gift planning, charitable planning, business succession planning, or estate planning. With the addition of Cloud, the group includes six members of the American College of Trust and Estate Counsel and has been ranked by Chambers and Partners since 2016. The Trusts & Estates Group drafts basic estate plans as well as plans spanning multiple generations, states, and businesses. With decades of experience among the group's members, there is likely no scenario they have not encountered. The group also represents clients in litigation involving trust, estate, and family business disputes.
* * * * *
About Levenfeld Pearlstein LLC: Chicago-based Levenfeld Pearlstein, LLC provides legal and business counsel to sophisticated clients across a broad range of corporate, tax, real estate, and litigation matters. LP works with clients to understand the full impact of the law on their businesses and proactively addresses their legal issues so that they can quickly return to doing what they do best. While the firm possesses the resources and depth necessary to manage the most complex matters most efficiently and cost-effectively possible, it truly differentiates itself through its commitment to "The LP Way". Unique among corporate law firms, the LP Way is the firm's model for creating an unparalleled client experience at an exceptional value. Visit our website at www.lplegal.com, and follow us on LinkedIn and on Twitter at @lplegal.
---