Levenfeld Pearlstein's Trusts & Estates Group Expands with Addition of Partner Jared Cloud
---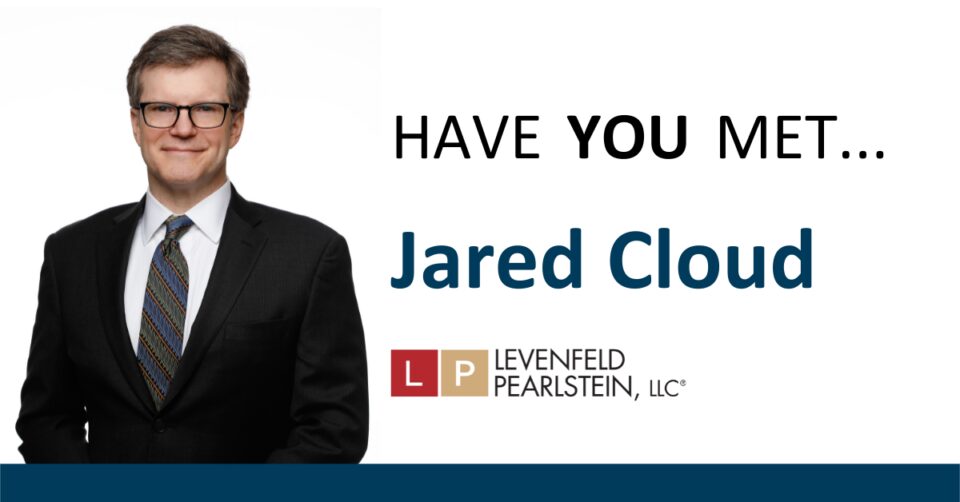 CHICAGO, March 8, 2022 – Levenfeld Pearlstein is delighted to announce that Jared Cloud has joined the firm as a Partner in its Trusts & Estates Group.
Cloud's practice focuses on representing clients in trust, estate, and family business disputes. His trust and estate litigation experience includes representing fiduciaries and beneficiaries in controversies involving will and trust construction, contested accountings, trust reformation, probate claims, and breach of fiduciary duty. He also represents clients in family business disputes, including leadership succession conflicts, separation of interests, buyouts of minority stakeholders, derivative actions, and partnership accountings.
"Jared is a brilliant attorney with the ability to understand the nuances of trusts and estates law along with the procedural aspects of litigation," said Carrie Harrington, a partner in LP's Trusts & Estates Group. "His addition to the group will enable us to expand further into the complex area of trusts and estates litigation."
Cloud is a Fellow with the American College of Trust and Estate Counsel (ACTEC) and a member of ACTEC's Fiduciary Litigation Committee. Prior to joining LP, he was a partner with McDermott Will & Emery and previously Winston & Strawn.
LP's Trusts & Estates Group helps individuals and families achieve their business and personal planning goals, whether gift planning, charitable planning, business succession planning, or estate planning. With the addition of Cloud, the group includes five members of the American College of Trust and Estate Counsel and has been ranked by Chambers and Partners since 2016. The Trusts & Estates Group drafts basic estate plans as well as plans spanning multiple generations, states, and businesses. With decades of experience among the group's members, there is likely no scenario they have not encountered. The group also represents clients in litigation involving trust, estate, and family business disputes.
* * * * *
About Levenfeld Pearlstein LLC: Chicago-based Levenfeld Pearlstein, LLC provides legal and business counsel to sophisticated clients across a broad range of corporate, tax, real estate, and litigation matters. LP works with clients to understand the full impact of the law on their businesses and proactively addresses their legal issues so that they can quickly return to doing what they do best. While the firm possesses the resources and depth necessary to manage the most complex matters most efficiently and cost-effectively possible, it truly differentiates itself through its commitment to "The LP Way". Unique among corporate law firms, the LP Way is the firm's model for creating an unparalleled client experience at an exceptional value. Visit our website at www.lplegal.com, and follow us on LinkedIn and on Twitter at @lplegal.
---