Crain's Chicago Business Recognizes Three LP Partners – Laura Friedel, Elizabeth O'Brien, and Lisa Vandesteeg – Among 2022 Notable Women in the Law
---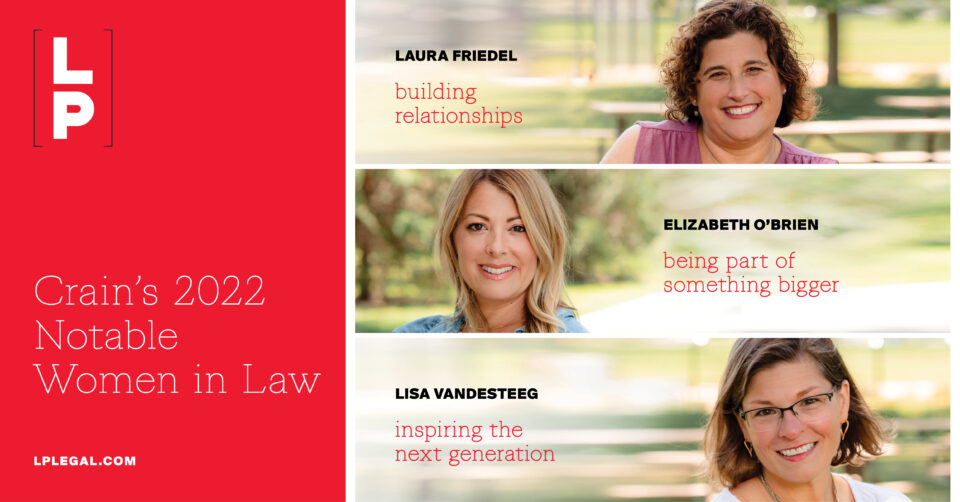 CHICAGO, September 2, 2022 – Levenfeld Pearlstein, LLC (LP) is pleased to announce that Laura Friedel, Elizabeth O'Brien, and Lisa Vandesteeg – partners in the firm's Employment & Executive Compensation, Real Estate, and Financial Services & Restructuring Groups, respectively – have been recognized by Crain's Chicago Business among its 2022 "Notable Women Lawyers."
Laura Friedel is a partner in and chair of the firm's Employment & Executive Compensation Group. Her practice focuses on developing employment documents, policies, and practices that improve employee relations while protecting the company's investment in its people and minimizing legal risk. As a member of the firm's Professional Development Committee, Friedel is actively involved and significantly invested in the professional development of women associates, both at the firm and within the legal community. As former chair of LPW, the firm's women's initiative, she mentored associates on professional development, connected them to business development and networking opportunities, and guided them though career challenges.
Elizabeth O'Brien is a partner in the firm's Real Estate Group, a member of the Compensation Committee, and leader of recruiting efforts for the Real Estate Group. She represents developers and investors in connection with acquisitions and dispositions; joint ventures, development; construction financing, construction contracts and retail, office and industrial leasing. Not only does O'Brien actively mentor women attorneys, but she is an active member of the community. O'Brien was appointed to the Board of Directors of Friends for the Chicago River in 2020, has been a member of Commercial Real Estate Executive Women (CREW) Chicago for several years, and is on the Board of Directors for the Howard E. Eisenberg Foundation.
Lisa Vandesteeg a partner in the firm's Financial Services & Restructuring Group. Her practice focuses on bankruptcy, creditors' rights, commercial litigation, and data security/privacy. She is qualified as a Certified Information Privacy Professional for the U.S. Private Sector by the International Association of Privacy Professionals, the world's largest information privacy organization. In addition to mentoring women attorneys in the firm, she has also been a mentor and leader through her longstanding involvement with International Women's Insolvency & Restructuring Confederation (IWIRC). Vandesteeg was recently named co-chair of LPW, the firm's women's group.
"Each of these women are the epitome of what it means to be an exceptional attorney and leader," said Managing Partner Jeffery Hoffenberg. "In addition to maintaining successful legal practices, they each work to empower women, promote inclusive practices, and advance change in the legal industry."
Past firm recipients of Crain's Notable Women in Law honor include Eileen Sethna, Sheri Warsh, and Lauren Wolven.
About Levenfeld Pearlstein LLC: Chicago-based Levenfeld Pearlstein, LLC provides legal and business counsel to sophisticated clients across a broad range of corporate, tax, real estate, estate planning, and litigation matters. LP works with clients to understand the full impact of the law on their businesses and proactively addresses their legal issues so that they can quickly return to doing what they do best. While the firm possesses the resources and depth necessary to manage the most complex matters most efficiently and cost-effectively possible, it truly differentiates itself through its commitment to "The LP Way" – the firm's model for creating an unparalleled client experience at an exceptional value.
Visit our website at www.lplegal.com, and follow us on LinkedIn at @levenfeld-pearlstein.
---