LP Names Laura Marinelli and George Pavlik as Incoming Practice Group Leaders
---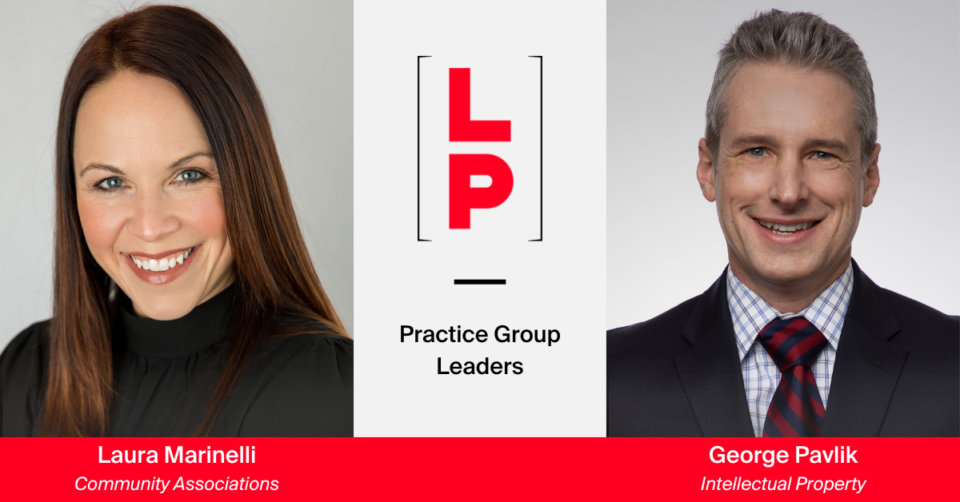 CHICAGO, January 9, 2023 – Levenfeld Pearlstein, LLC (LP) is pleased to announce that Laura Marinelli and George Pavlik have been named leaders of the Community Associations Group and the Intellectual Property Group, respectively. Their new roles took effect on January 1, 2023.
With nearly 20 years of experience representing condominium associations and common interest community associations, Laura Marinelli is one of Chicago's leading attorneys in the field. In addition to representing clients in complex litigation and ongoing corporate and governance issues, she advises clients in connection with various injunctive and equitable remedies, as well as covenant enforcement, developer issues, mixed-use property disputes, and breach of fiduciary duty matters. Marinelli also counsels clients on issues related to associations' governing documents and helps clients resolve issues with homeowners, developers, and government agencies.
"Not only is she well recognized and highly regarded in the industry, but clients appreciate her strong presence and poised approach to legal challenges," said Howard Dakoff, a partner in the Community Associations Group. "Her depth of experience working with community associations harmonizes with LP's strategic plan to expand its presence in the industry."
George Pavlik has nearly two decades of experience assisting clients with protecting their intellectual property rights. He concentrates on patent and trademark prosecution, licensing, due diligence, and clearance/opinion matters. Pavlik has worked with clients across a wide range of technical areas, including mechanical, electrical, and medical devices; electronic gaming machines and game features; pumps and pump controls; water management systems; alarm systems, detectors, and security cameras; and equipment and technology for use with law enforcement or military applications. He regularly advises clients on issues related to patentability and infringement, as well as trademark clearance and availability.
"George prioritizes client satisfaction, fosters cross-practice collaboration, and empowers others to lead," said Mitchell Weinstein, a partner in the Intellectual Property Group. "As the practice group leader, he will continue to grow those relationships with IP clients while also expanding representation to corporate matters, labor and employment, and others."
Practice group leadership transitions are a part of LP's deliberate succession planning protocol, designed to provide opportunities for different individuals at the firm to serve in leadership roles. Since its early days, LP has cultivated leaders through a formal training program. Its successful implementation continues to create future leaders with skills that build upon those of their predecessors.
"At LP, we are committed to developing, empowering, and promoting the next generation of leaders," said Jeffery Hoffenberg, Managing Partner of LP. "With Laura's and George's leadership, we will continue to thrive as an innovative and service-focused law firm."
* * * * * *
About Levenfeld Pearlstein LLC: Chicago-based Levenfeld Pearlstein, LLC provides legal and business counsel to sophisticated clients across a broad range of corporate, tax, real estate, estate planning, and litigation matters. LP works with clients to understand the full impact of the law on their businesses and proactively addresses their legal issues so that they can quickly return to doing what they do best. While the firm possesses the resources and depth necessary to manage the most complex matters as efficiently and cost-effectively as possible, it truly differentiates itself through its commitment to "The LP Way" – the firm's model for creating an unparalleled client experience at an exceptional value.
Visit our website at www.lplegal.com, and follow us on LinkedIn at @levenfeld-pearlstein.
---