Mask Mandates Returned to City of Chicago and Cook County – What Do Community Associations Need to Know?
---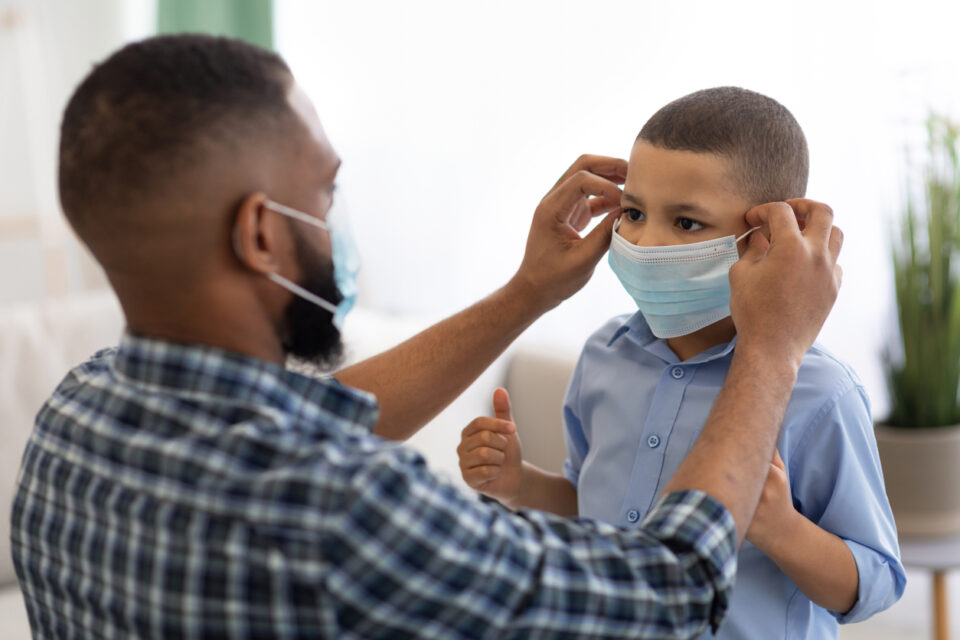 Update 8.25.2021: Effective August 23, 2021, a mask mandate applies to all of Cook County, including the City of Chicago and surrounding suburbs.
On Tuesday, August 17th, the City of Chicago announced to the media a new indoor mask mandate to be effective on August 20th. The new mask mandate (Executive Order 2021-1) begins on Friday, August 20th and is due to the Delta variant and worsening COVID-19 metrics in City of Chicago/Cook County. The City of Chicago's Phase 5 Guidance (available here) has also been updated to reflect the new mask mandate. Below is a summary of what Chicago community associations need to know about the new Chicago mask mandate.
Does the New Mask Mandate Apply to Fully Vaccinated Persons?
Yes. The indoor mask mandate applies to all individuals 2 years or older regardless of vaccination status.
Does It Apply to Condominiums, HOAs, and Co-ops?
Yes. The Executive Order requires masks to be worn in indoors in "any common or shared space" in a "residential multi-unit building". Further, per the Chicago Department of Public Health (article available here), starting August 20th "[m]asks are required in all indoor public settings, including . . . areas of condos and multi-residential buildings," such as homeowners associations, and co-ops.
What About Outdoor Common Elements/Areas – Are Masks Required?
Currently, the new mask mandate applies to indoor common elements/areas only; however, given the increasing COVID-19 rates caused by the highly transmissible Delta variant, it is reasonable (and recommended) that community association boards consider imposing a mask mandate for outdoor common elements/areas such as pools or sun decks unless at least 6 feet of social distancing can be maintained at all times and/or (re-)implementing COVID-19 protocols such as reduced capacity limits and increased cleaning, etc.
We also note that the new mask mandate (like all things COVID-19-related) is subject to change, and it is possible that the new mask mandate could be expanded to include outdoor common elements/areas in the future or additional guidance may be issued that requires wearing of masks in outdoor common elements/areas.
Last Year We Closed Our Indoor Common Element/Area Amenities — Can (and Should) We Do So Again?
At present, there is no requirement to close the indoor common element/area amenities. That said, community association boards may adopt additional or stricter restrictions such as (i) temporarily closing indoor (and outdoor) common element amenities, such as hospitality rooms, fitness centers, pools, etc., and/or (ii) (re-) implementing heightened health and safety protocols (examples include heightened cleaning/sanitation procedures, reservations for amenities to manage traffic flow, reorganizing common element/areas to promote social distancing, etc.) in order to protect the health and safety of all residents.
While it is anticipated that some residents may oppose additional common element/area restrictions and temporary closures (particularly on the heels of a difficult 2020 which saw many community associations temporarily close their common amenities due to COVID-19), we recommend that community association boards thoughtfully consider imposing additional restrictions as appropriate during a surge in COVID-19 transmissions in Chicago to protect all residents and clearly communicate such additional restrictions to the unit owners.
Note: As explained here, condominium unit owners are not entitled to a refund of a portion of their monthly assessment in the event of a common element amenity closure.
Our Annual Meeting is Coming Up – How Can We Safely Proceed with the Board Election in Light of the New Indoor Mask Mandate?
At a minimum, masks must be worn for an in-person indoor annual meeting and board election. We also recommend conducting elections "remotely" via a video or teleconference call and with the use of proxies, absentee balloting, or electronic voting (depending on what the association's governing documents provide) to minimize person-to-person contact and adhere to CDC guidelines regarding social distancing. Click here for our article on conducting safe, socially distanced condominium board elections.
Does the Executive Order Require Posting Signage Regarding the Mask Mandate?
Yes. The Executive Order requires that businesses, including non-profit corporations such as condominium associations, homeowners associations and co-ops, "prominently post signage, in a form prescribed by the Commissioner of Business Affairs and Consumer Protection, at each publicly accessible entrance to the business and at least one location inside the business that is conspicuously visible informing patrons that masks are required to be worn indoors, regardless of vaccination status."
Click here for signage from the Chicago Department of Public Health concerning the new mask mandate.
Where Can I Find Text of the New Mask Mandate?
Click here for text of Executive Order 2021-1 (indoor mask mandate).
LP is committed to keeping our community association clients updated, informed, and prepared to proactively navigate the COVID-19 pandemic. For questions about handling specific issues related to COVID-19 in your community association, please contact Howard Dakoff, Patricia O'Connor, Laura Marinelli, Adam Kahn, or Molly Mackey of LP's Community Association Group.
---
Related insights
June 29, 2022
City of Chicago Adopts New "Cooling Ordinance": What Do Chicago Community Associations Need to Know?
Read More
June 21, 2022
Can Condo Associations Rent their Activity Centers and Swimming Pools? Howard Dakoff Joins WGN's 'Chicago Afternoon News' to Discuss Hot Topics Facing Condo Owners and Boards
Read More