Levenfeld Pearlstein's Real Estate Group and Financial Services & Restructuring Group Recognized Among Best in Illinois Again in 2023
---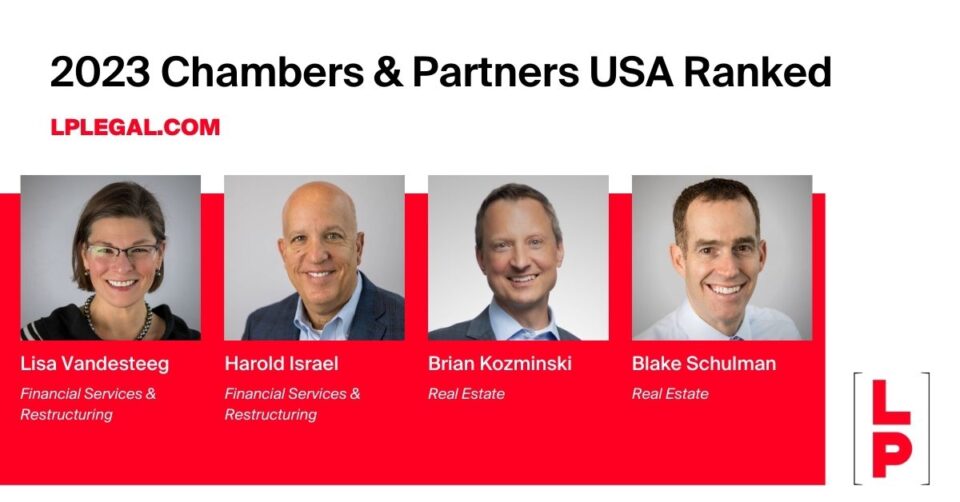 CHICAGO, June 1, 2023 – Levenfeld Pearlstein (LP) is pleased to announce that its Real Estate Group and Bankruptcy & Restructuring practice, which is part of the firm's Financial Services and Restructuring Group, were both ranked in Chambers USA: America's Leading Lawyers for Business among the best law practices in Illinois. Additionally, the following attorneys were individually recognized: Harold Israel, Brian Kozminski, Blake Schulman, and Lisa Vandesteeg.
In its review of LP's Real Estate Group, which has been ranked for 15 consecutive years, Chambers observed that the team "possesses a fine reputation in the real estate market for its expertise in transactional work, advising owners, lenders and borrowers on acquisitions and dispositions, construction and leasing matters. It has notable experience handling deals involving condominiums and manufactured housing communities."
In its review of LP's Bankruptcy & Restructuring practice, Chambers observed that the team is "noted for its strong restructuring practice. The firm's attorneys handle a wide range of matters, including workouts, reorganizations and financing transactions. They act for both debtors and creditors."
The following attorneys were individually recognized by Chambers USA as among the best in Illinois, as well:
Harold Israel wins praise from the market for his strong restructuring practice. He offers a wealth of experience representing debtors, lenders and creditors in both in- and out-of-court restructurings. As one client noted, "Harold is a really strong lawyer. He's very experienced, very bright and collaborative."
Brian Kozminski is highly regarded for his experience assisting clients in the leasing of high-value real estate. Clients noted that "Brian Kozminski is a really good guy and a really good lawyer." and "Brian Kozminski is a very good attorney."
Blake Schulman is an up-and-coming practitioner, noted for his representation of private equity clients in real estate acquisitions and dispositions. "Blake is very smart and always willing to work through all of the details. He is extremely detail-orientated, and I have full confidence in his ability to protect our company when it comes to legal matters." one client noted.
Lisa Vandesteeg was recognized as an experienced bankruptcy practitioner. She is regularly called upon by debtors and creditors for assistance with reorganization and restructuring matters. As one client noted, "Elizabeth's a quality lawyer."
About the Real Estate Practice Group
LP's Real Estate Group has a successful track record in all major types of real estate transactions, across a diverse set of commercial property types. This includes acquisitions and dispositions, joint ventures, real estate development, real estate tax structuring, commercial leasing, and debt and equity financing. The group is made up of more than just intelligent and experienced lawyers. Our success is the result of the hard work, dedication and insight that comes from taking on the issues facing LP's clients as if they were our own. We pride ourselves on being thoughtful business advisors and efficient deal managers. This is precisely why this Chambers ranking, which is primarily based on client feedback, is uniquely satisfying for our Real Estate group – it is a testament to our deep relationship with our trusted clients.
About the Financial Services & Restructuring Group
The Financial Services & Restructuring Group (FSRG) at LP has deep experience in all facets of in-court and out-of-court restructurings and workouts. Our attorneys have led engagements across the United States and internationally. Our prominent restructuring attorneys are keenly familiar with the market and strategic options, and maintain a vast network of connections, thereby enabling us to provide tailored advice that achieves unprecedented results in an efficient and cost-effective manner. Additionally, the group has extensive experience in commercial lending practice for both lenders and borrowers, including commercial lending, asset-based lending, and real estate lending.
---