Carrie Harrington, Eileen Sethna, Robert Connolly, and Eric Fuglsang Appointed Group Leaders as Levenfeld Pearlstein Announces New Leadership as Part of Succession Planning
---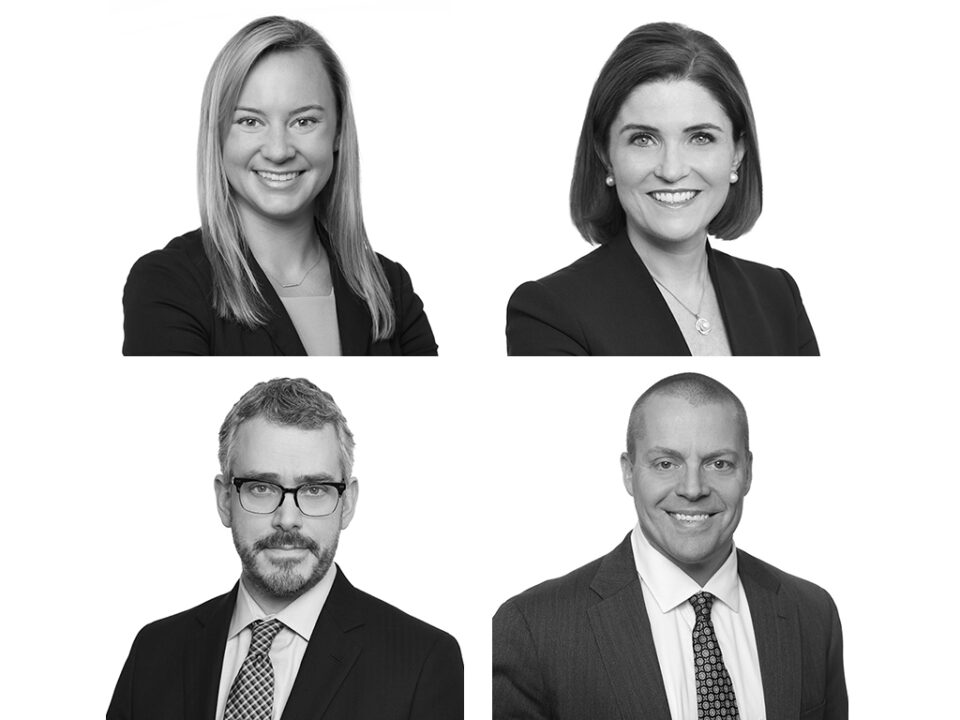 CHICAGO, March 16, 2020 – Levenfeld Pearlstein, LLC (LP) is pleased to announce that partners Carrie Harrington, Eileen Sethna, Robert Connolly, and Eric Fuglsang have been named Practice Group Leaders for the Trusts & Estates Group, Financial Services & Restructuring Group, Corporate Group, and Real Estate Group, respectively. The new roles will take effect over the course of 2021.
As a trusts and estates lawyer, Carrie Harrington helps individuals, families, and privately held businesses to protect and transfer their assets pursuant to their goals and values in the most effective, tax efficient way possible. She also assists financial institutions with trust and estate administration and controversy and routinely appears in court to handle contested matters. She works with corporate and individual fiduciaries and beneficiaries in administering and refreshing antiquated or impractical documents giving her a well-rounded practice. Harrington was selected to the Illinois Rising Stars list by Illinois Super Lawyers from 2017-2020 and she serves on the board of the Chicago Estate Planning Council.
Eileen Sethna is a trusted adviser to banks, financial institutions, hedge funds, real estate investors, and business owners, listening to her clients to determine a strategic approach that will achieve their specific needs and goals. Given her experience representing both lenders and borrowers, clients lean on her vast wealth of knowledge and experience in the industry. Sethna was recently recognized by Crain's Chicago Business among its 2020 "Notable Women in Law" and by Chicago Daily Law Bulletin among its "Women in Law – Class of 2020". She is committed to raising awareness and funding for children and adults with intellectual and development disabilities through her service to Misericordia, serving on both their Advisory and Women's Boards, and to Special Olympics of Illinois, where she serves on the Board of Directors.
Robert Connolly has been with the firm since its inception. He works with buyers, sellers, investors, and operators of privately held businesses on complex business transactions throughout the company's life cycle. His clients include buyers and sellers in mergers and acquisitions transactions, companies undergoing meaningful growth or transition, private equity sponsors and others who buy, invest in or operate privately held companies. He serves as "outside general counsel" for many of his clients. Connolly was selected to the Illinois Rising Stars list by Illinois Super Lawyers from 2017-2020 and was named among Emerging Lawyers in Corporate Finance Law, Mergers & Acquisitions and Securities & Venture Finance by Leading Lawyers in 2015.
A real estate attorney, Eric Fuglsang focuses his practice in commercial leasing and asset management, real estate finance, acquisitions and dispositions, and development. He represents a diverse group of clients, including public and private corporate, commercial, governmental, and not-for-profit entities, in all facets of commercial leasing, asset management, acquisitions and dispositions, and real estate finance. Fuglsang was individually listed in Chambers USA in 2018-2019, was named among The Best Lawyers in America from 2013–2020, was selected to the Illinois Rising Stars list by Illinois Super Lawyers from 2007-2011, and was selected to the Illinois Super Lawyers list from 2014–2020.
"At LP, we pride ourselves on our commitment to developing and promoting the next generation of leaders," said Robert A. Romanoff, Chairman and Managing Partner of LP. "Carrie, Eileen, Rob, and Eric are all exceptional attorneys and proven leaders in their respective practices. Under their leadership, LP will continue to thrive as an innovative and forward-thinking law firm."
Practice group leadership transitions are a part of LP's deliberate succession planning protocol, designed to provide opportunities for different individuals at the firm to serve in leadership roles. Since its early days, LP's leadership has cultivated leaders through a formal training program, and its successful implementation continues to create future leaders with skills that build upon those of their predecessor.
* * * * * *
About Levenfeld Pearlstein LLC: Chicago-based Levenfeld Pearlstein, LLC provides legal and business counsel to sophisticated clients across a broad range of corporate, tax, real estate, estate planning, and litigation matters. LP works with clients to understand the full impact of the law on their businesses and proactively addresses their legal issues so that they can quickly return to doing what they do best.
While the firm possesses the resources and depth necessary to manage the most complex matters most efficiently and cost-effectively possible, it truly differentiates itself through its commitment to "The LP Way". Unique among corporate law firms, the LP Way is the firm's model for creating an unparalleled client experience at an exceptional value. This is accomplished by complementing outstanding legal work with a commitment to knowing the client; avoiding surprises; moving with speed and quality; and establishing and consistently beating client expectations. These are grounded in the belief that every action should point toward a single goal: making the experience of being an LP client as rewarding as possible.
Visit our website at www.lplegal.com, and follow us on Twitter at @lplegal.
---
Related insights
September 06, 2023
The Gift, Estate, and GST Tax Exclusion Increased by an Unprecedented $860,000 in 2023 and the 2025 Sunset is Fast Approaching
Read More
August 30, 2023
Levenfeld Pearlstein's Financial Services & Restructuring Group Expands with the Addition of Bankruptcy Attorney Ryan Hardy
Read More