LP Wins 2023 Turnaround/Transaction of the Year Award
---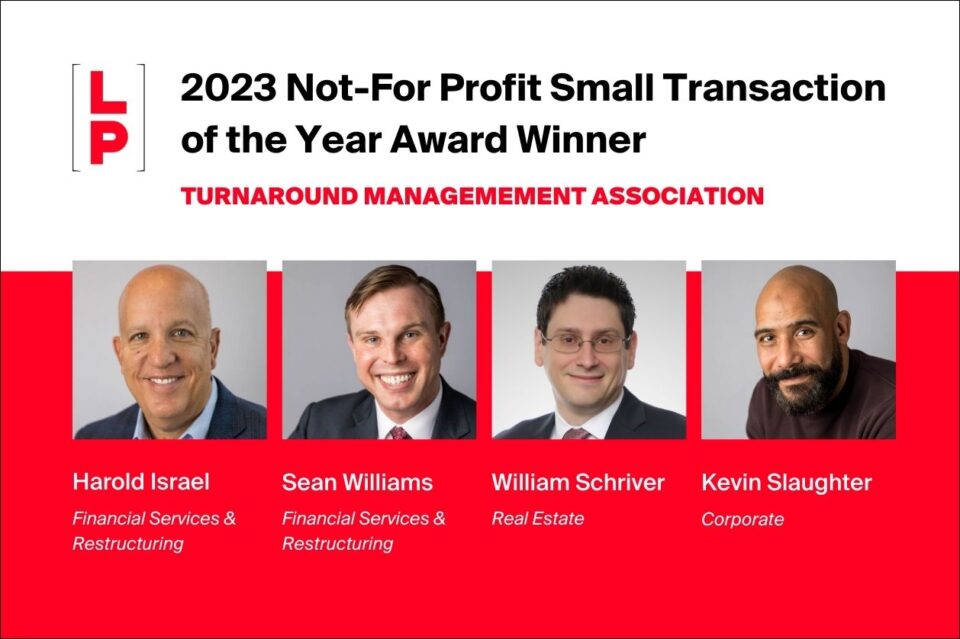 CHICAGO, IL, August 24, 2023 – Levenfeld Pearlstein, LLC (LP) is pleased to announce that it has been named the winner of the Not-For Profit Small Transaction of the Year Award by the Turnaround Management Association (TMA) for its work in connection with the bankruptcy case of Woodlawn Community Development Corporation (WCDC).
LP acted as counsel for Gina B. Krol, trustee in the chapter 11 bankruptcy of WCDC, an Illinois nonprofit corporation dedicated to providing affordable housing to Chicago's Woodlawn community. Together with High Ridge Partners, LLC, Millennium Properties R/E, Inc., and Marcus & Millichap, LP attorneys Harold Israel, Sean Williams, William Schriver, and Kevin Slaughter helped the trustee take Woodlawn from a state of administrative insolvency to a multi-million-dollar surplus estate – a rare occurrence in chapter 11 bankruptcies. The surplus will be reinvested in the economically challenged Woodlawn community and surrounding communities that were impacted by this bankruptcy.
"We are especially proud of the fact that the sale of WCDC's low- to middle-income housing developments prior to foreclosure enabled hundreds of residents to stay in their homes, without disruption," said Israel. "Numerous individuals were also able to keep their jobs."
TMA is the premier non-profit organization in the corporate restructuring, renewal, and corporate health space. Recipients of its distinguished Turnaround/Transaction of the Year awards are selected for "doing what TMA members do best – find value where it was lacking, maximize productivity and profitability in seemingly defunct businesses, and perhaps most importantly, save jobs."
LP will be recognized at TMA's Annual Conference in San Francisco, California, October 3-6, 2023.
*********************
About Levenfeld Pearlstein LLC: Chicago-based Levenfeld Pearlstein, LLC provides legal and business counsel to sophisticated clients across a broad range of corporate, tax, real estate, estate planning, and litigation matters. LP works with clients to understand the full impact of the law on their businesses and proactively addresses their legal issues so that they can quickly return to doing what they do best. While the firm possesses the resources and depth necessary to manage the most complex matters as efficiently and cost-effectively as possible, it truly differentiates itself through its commitment to "The LP Way" – the firm's model for creating an unparalleled client experience at an exceptional value.
Visit our website at www.lplegal.com and follow us on LinkedIn at @levenfeld-pearlstein.
---