LP Moves to 120 S Riverside Plaza
---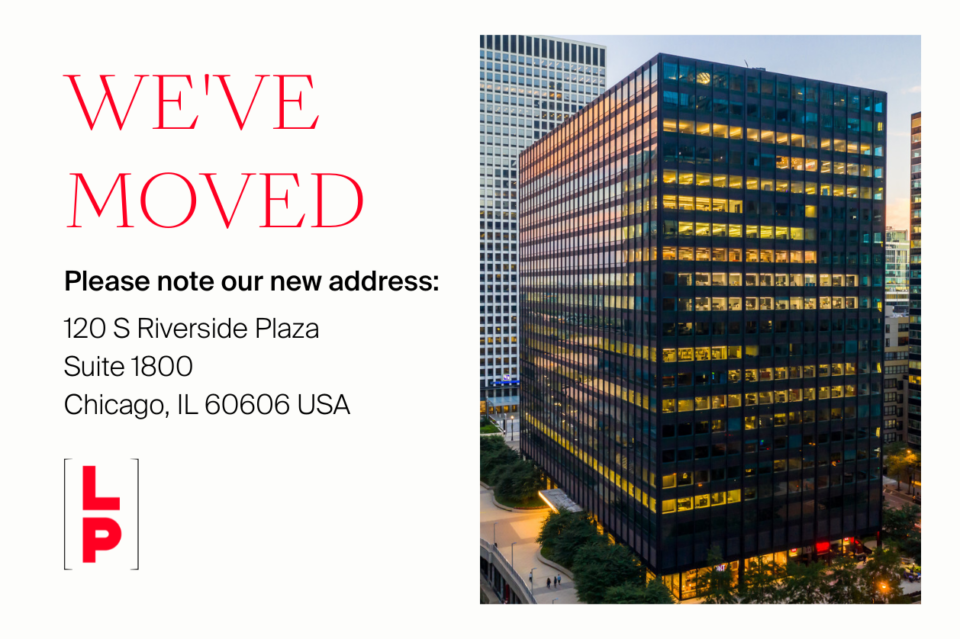 CHICAGO, IL – Levenfeld Pearlstein, LLC (LP) is pleased to announce that it has moved the location of its Chicago office to 120 South Riverside Plaza, Chicago, Illinois, effective January 27, 2023.
"In planning for our new office, we engaged our attorneys and employees in a workplace strategy process, which included a series of interviews and surveys to determine what was most important to provide the best experience to our clients and staff while in our office," said Kevin Corrigan, Chief Operations Officer at LP. "Acoustics, natural light, technology, collaboration areas, and flexibility in the way you work were at the top of the list. With our stakeholders' feedback in mind, we went to work building a new office that met those expectations."
"Our new office space in downtown Chicago fosters collaboration, innovation, and system alignment—all of which will enable us to continue providing an unparalleled client experience while also growing as a firm," said LP Managing Partner Jeffery Hoffenberg.
"In our mission to provide an unparalleled client experience, we are guided by The LP Way," said Jeremy Gresham, Chief Executive Officer of LP. "Our new office space will help us do so by optimizing flexibility, prioritizing technological advances, and meeting the industry's ever-changing needs."
About Levenfeld Pearlstein, LLC
Chicago-based Levenfeld Pearlstein, LLC provides legal and business counsel to sophisticated clients across a broad range of corporate, tax, real estate, estate planning, financing and litigation matters. LP works with clients to understand the full impact of the law on their businesses and proactively addresses their legal issues so that they can quickly return to doing what they do best.
While the firm possesses the resources and depth necessary to manage the most complex matters as efficiently and cost-effectively as possible, it truly differentiates itself through its commitment to "The LP Way" – the firm's model for creating an unparalleled client experience at an exceptional value.
Visit our website at www.lplegal.com and follow us on LinkedIn at @levenfeld-pearlstein.
---