Levenfeld Pearlstein's Financial Services & Restructuring Group Expands with the Addition of Finance Attorney Simone Randolph
---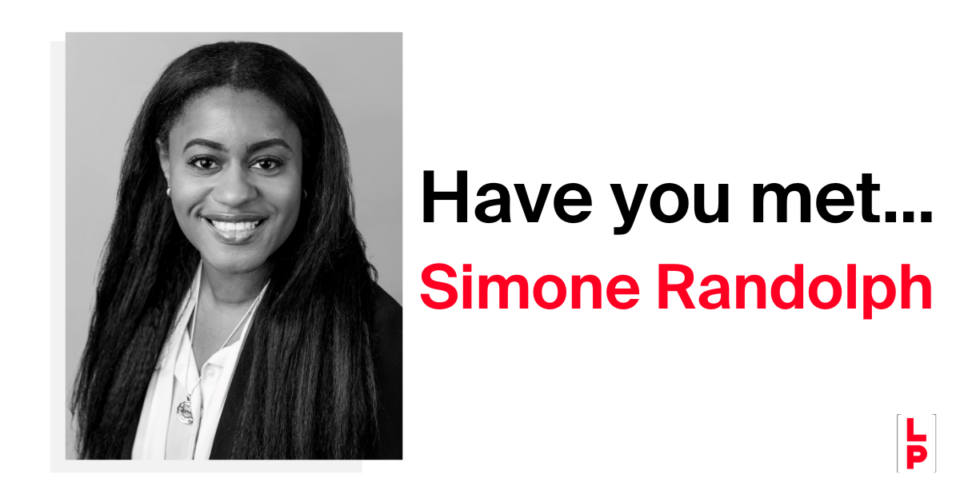 CHICAGO, June 27, 2023 – Levenfeld Pearlstein (LP) is pleased to announce that Simone Randolph has joined the firm as a Partner in its Financial Services & Restructuring Group. Before joining LP, Randolph was a partner with Thomson & Hines in its Chicago office.
Randolph's practice focuses on representing clients in a wide range of complex financing transactions, including syndicated, mezzanine and construction financing. She also advises lenders on loan purchases, sales, restructurings, and modifications. Simone has represented lending institutions and borrowers in thousands of financing transactions throughout the country.
Additionally, Simone has significant experience advising clients in sophisticated real estate matters, including, but not limited to, acquisitions and dispositions, leasing, ground leasing, and property and facilities management issues and disputes.
"We are thrilled to welcome Simone to the firm," said Eileen Sethna, a partner in and leader of the firm's Financial Services & Restructuring Group. "Simone has a unique combination of financing and real estate experience that will be an asset to the firm and our clients."
In addition to her active legal practice, Randolph serves on the board of the Women's Bar Foundation, which provides scholarships to young women pursuing law degrees. She is also an executive board member and board vice chair of the Chicago Loop Alliance, which works to promote and support businesses and revitalize the city's central business district.
Randolph earned her J.D. from Harvard Law School and her B.A.Sc., magna cum laude, from Duke University. Among other awards and recognitions, she was recognized as a Notable Rising Star in Law in 2021 by Crain's Chicago Business.
* * * * *
About Levenfeld Pearlstein LLC: Chicago-based Levenfeld Pearlstein, LLC provides legal and business counsel to sophisticated clients across a broad range of corporate, tax, real estate, and litigation matters. LP works with clients to understand the full impact of the law on their businesses and proactively addresses their legal issues so that they can quickly return to doing what they do best. While the firm possesses the resources and depth necessary to manage the most complex matters most efficiently and cost-effectively possible, it truly differentiates itself through its commitment to "The LP Way". Unique among corporate law firms, the LP Way is the firm's model for creating an unparalleled client experience at an exceptional value. Visit our website at www.lplegal.com, and follow us on LinkedIn and on Twitter at @lplegal.
---