Levenfeld Pearlstein's Real Estate Group Recognized by Chambers USA for 13th Consecutive Year Among Best in Illinois
---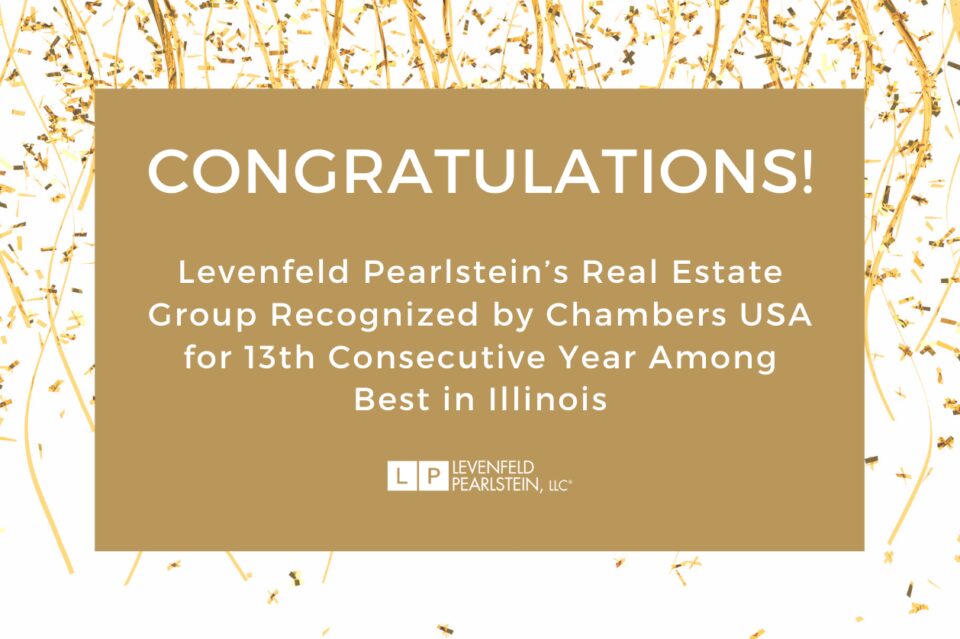 CHICAGO, May 25, 2021 – Levenfeld Pearlstein (LP) is pleased to announce that, for the 13th consecutive year, its Real Estate Group has been ranked in Chambers USA: America's Leading Lawyers for Business among the best law practices in Illinois. In addition to the practice group's overall accolades, LP Real Estate partners David Berzon, Thomas Jaros, and Brian Kozminski are each individually recognized.
In its review of LP's Real Estate Group, Chambers observed that the team "possesses a fine reputation in the real estate market for its expertise in transactional work, advising owners, lenders and borrowers on acquisitions and dispositions, construction and leasing matters." The publication also singles out the Real Estate Group's specialized "experience handling deals involving condominiums and manufactured housing communities."
One of LP's valued clients shared with Chambers that the Real Estate Group is "strong at creative problem solving and quick action."
The observations gathered regarding LP's individually ranked attorneys included similar praise:
David Berzon has experience advising clients on the full range of real estate matters. Chambers highlighted that clients commented that "his attention to detail stood out and his ability to advocate for his client."
Thomas Jaros was recognized for advising clients on complex real estate transactions and financings. Clients say he is "exceptional at his work" and that "[h]e has navigated us through several issues and pitfalls and he is always thinking three steps ahead."
Brian Kozminski is highly regarded for his experience assisting clients in the leasing of high-value real estate. One client remarked to Chambers that Kozminski is "very knowledgeable and very practical," adding that "he is someone who knows all the arguments but understands the client's expectations too."
About the Real Estate Practice Group
LP's Real Estate Group has a successful track record in all major types of real estate transactions, across a diverse set of commercial property types. This includes acquisitions and dispositions, joint ventures, real estate development, real estate tax structuring, commercial leasing, and debt and equity financing. The group is made up of more than just intelligent and experienced lawyers. Our success is the result of the hard work, dedication and insight that comes from taking on the issues facing LP's clients as if they were our own. We pride ourselves on being thoughtful business advisors and efficient deal managers. This is precisely why this Chambers ranking, which is primarily based on client feedback, is uniquely satisfying for our Real Estate group – it is a testament to our deep relationship with our trusted clients.
---