Levenfeld Pearlstein Real Estate Group Again Ranked Among Best in Illinois for 2018 by Chambers USA
---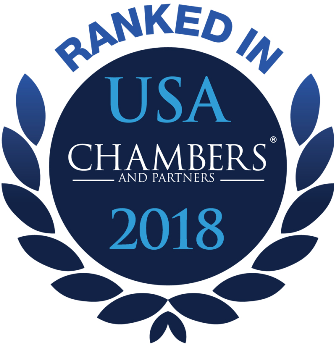 CHICAGO May 3, 2018 — Levenfeld Pearlstein is pleased to announce that its Real Estate Practice Group has been ranked in the 2018 edition of Chambers USA: America's Leading Lawyers for Business among the best law practices in Illinois. Along with the firm ranking, LP Real Estate partners Thomas Jaros, Brian Kozminski, and David Berzon are also individually recognized.
In recognizing LP, Chambers USA praised the group's "fine reputation in the real estate market for its expertise in transactional work, advising owners, lenders and borrowers on acquisitions and dispositions, construction and leasing matters." It also noted that the firm's clients "have the utmost confidence in the entire legal team. For a boutique firm, they've got a deep team of real estate professionals."
LP's Real Estate Group is made up of more than just intelligent and experienced lawyers.
The group has extensive experience in all major types of real estate transactions and all commercial property types. This includes acquisitions and dispositions, joint ventures, real estate development, real estate tax structuring, commercial leasing, and debt and equity financing.
Tom Jaros
Lauded by Chambers USA as a "very bright and a very good practitioner," Jaros focuses on acquisitions and dispositions of all product types across the nation, including multi-family, office, industrial, retail and hotel. He is particularly experienced in the financing aspects of his client's projects. Over the years, Jaros has developed a significant amount of experience with non-recourse financing, including CMBS and mezzanine loans. This experience has led to a significant practice involving troubled mortgage loans, including restructurings, workouts and defense of foreclosure and guaranty suits.
Brian Kozminski
Kozminski is praised by a client as "extremely responsive, timely, thorough, efficient and always a few steps ahead, so he can navigate through potential issues for us." He has broad experience in real estate law and represents developers and owners of office, senior housing, hotel, medical office, retail, multifamily, and industrial properties. He serves as Midwest counsel for sophisticated out of state clients. Kozminski just completed his second four-year term as an elected trustee in the Village of Northfield, Illinois.
David Berzon
Berzon is praised in Chambers USA by his clients for bringing "a lifetime of real estate experience and always approaches the legal work from a business perspective." He has an extensive background in commercial real estate sales and acquisitions, development, debt and equity financing, including joint ventures, leasing and work-outs. Berzon also has been personally involved in various real estate and other business ventures in recent years, and often hires other professionals for those transactions. In light of that experience, Berzon understands the importance of partnering with his clients and makes every effort to treat his clients the way he wants to be treated when he is on the client side. His business experience also offers him a comprehensive and real perspective on the legal issues facing real estate and business owners.
About Levenfeld Pearlstein LLC: Twice recognized by The National Law Journal as one of the nation's most innovative mid-sized law firms, Chicago-based Levenfeld Pearlstein, LLC provides legal and business counsel to sophisticated clients across a broad range of corporate, tax, real estate, and litigation matters. LP works with clients to understand the full impact of the law on their businesses and proactively addresses their legal issues so that they can quickly return to doing what they do best.
While the firm possesses the resources and depth necessary to manage the most complex matters in the most efficient and cost-effective manner possible, it truly differentiates itself through its commitment to "The LP Way". Unique among corporate law firms, the LP Way is the firm's model for creating an unparalleled client experience at an exceptional value. This is accomplished by complementing outstanding legal work with a commitment to knowing the client; avoiding surprises; moving with speed and quality; and establishing and consistently beating client expectations. These are grounded in the belief that every action should point toward a single goal: making the experience of being an LP client as rewarding as possible.
Visit our website at www.lplegal.com, and follow us on Twitter at @lplegal.
---