Growing Levenfeld Pearlstein's Diverse Perspectives
---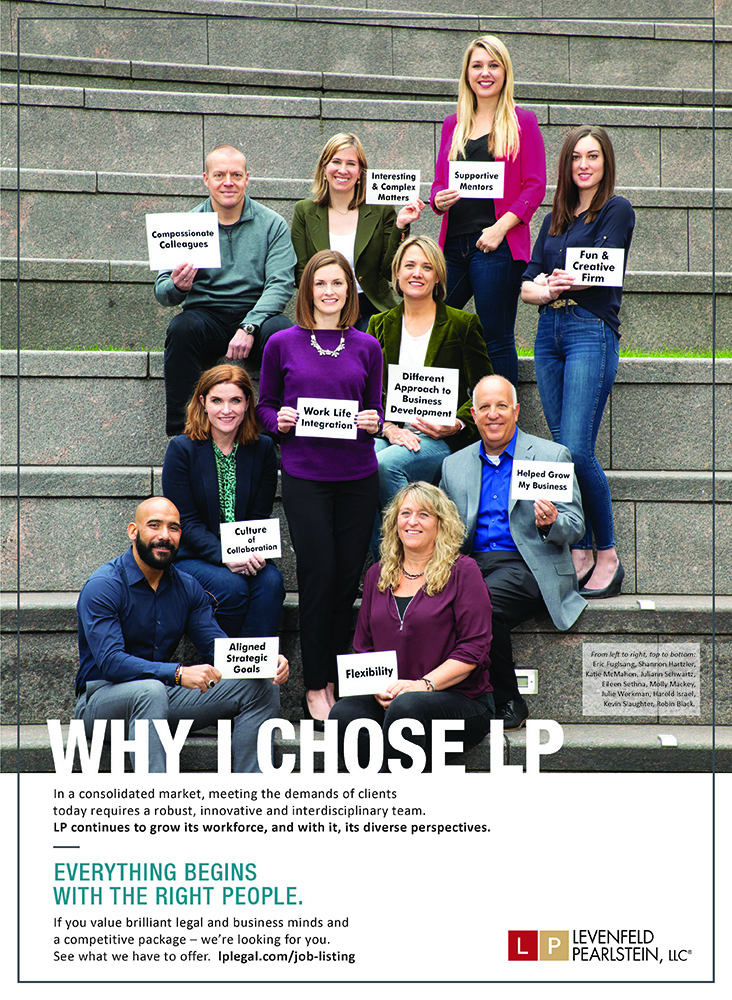 For a business to be successful in meeting the needs of a specific community, there must be established trust. Levenfeld Pearlstein (LP) is no different. Trust between our attorneys and clients is paramount.
That's why LP places such a strong emphasis on attorney recruitment and professional development. LP attorneys must not only be the most skilled lawyers and business advisors in the industry. They must also connect with clients and earn their absolute trust.
As Chairman & Managing Partner at LP, I can say with confidence that at our firm, everything begins with the right people. While quality in recruiting has always been far more important to us than quantity, we have been fortunate over the last five years to achieve both. During that period, our attorney headcount has grown by 38 percent, thanks in large part to our clients' strong loyalty and collaborative spirit, as well as our positive firm culture and commitment to adding dynamic and diverse perspectives to our growing team.
"Supportive." "Strategic." "Compassionate." "Helped grow my business."
These are just a few of the words that our newest attorneys have used to describe why they chose LP. They are the words that tell the story of our growth and form the foundation of our recruitment campaign that emphasizes LP's distinctive client service model and attorney professional development.
It is this passion, creativity and camaraderie that our attorneys summon daily in service of our clients. We hope it shows.
In a recent interview, I spoke on what sets LP apart, and why we relish the opportunity to be Chicago's premier midsize firm. Ultimately, it comes down to a committed effort to hiring precisely the right people to handle the complex and ever-evolving legal and business issues that clients face.
LP would not be such a welcoming, inclusive, creative and fulfilling place to work if it weren't for our clients, who trust us with their most significant business challenges and collaborate with us to pursue new opportunities.
We thank our clients for their continued support and look forward to an impactful 2020.
About Levenfeld Pearlstein, LLC: Twice recognized by The National Law Journal as one of the nation's most innovative mid-sized law firms, Chicago-based Levenfeld Pearlstein, LLC provides legal and business counsel to sophisticated clients across a broad range of community association, corporate, tax, real estate, and litigation matters. LP works with clients to understand the full impact of the law on their businesses and proactively addresses their legal issues so that they can quickly return to doing what they do best. While the firm possesses the resources and depth necessary to manage the most complex matters in the most efficient and cost-effective manner possible, it truly differentiates itself through its commitment to "The LP Way." Unique among corporate law firms, The LP Way is the firm's model for creating an unparalleled client experience at an exceptional value. This is accomplished by complementing outstanding legal work with a commitment to knowing the client; avoiding surprises; moving with speed and quality; and establishing and consistently beating client expectations. All of these grounded in the belief that every action should point toward a single goal: making the experience of being an LP client as rewarding as possible.
Visit our website at www.lplegal.com, and follow us on LinkedIn for more firm news and updates.
---