Law Firm Leaders: Levenfeld Pearlstein's Robert Romanoff
---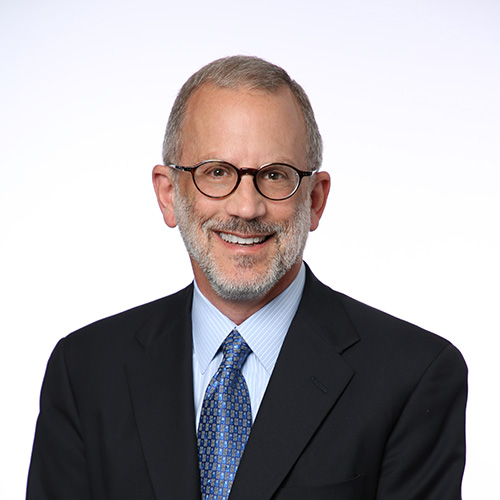 By Aebra Coe
Click here to view the full PDF, Reprinted with permission from Law360
Law360 (November 20, 2019, 10:38 AM EST) – Robert Romanoff has served as Chairman and Managing Partner of midsize Chicago Law Firm Levenfeld Pearlstein, LLC since 2013. The single-office law firm, which was founded in 1999, has grown its headcount by 38% over the past five years to more than 70 lawyers.
Here, Romanoff chats with Law360 about the law firm's decision to do away with the billable hour as a measure of attorney success, the firm's efforts to operate more efficiently, and how the firm prepares its young attorneys to become partners.
Your law firm has grown its attorney headcount by 38% over the past five years. How did you do it?
In 2014, we went through the process of deciding we wanted to be an independent firm and that we were not interested in merging. We used that decision as fuel to push our partners and our firm forward. So we invested in our young partners, providing them with the tools to go and generate business. We had a retreat back then where we focused on what it really means to be a partner. And we used that opportunity to impress on our partners and rally around the notion that it's up to all of us to generate business. All of our partners began to focus on how we can provide an unparalleled client experience and also what it meant to be a partner in the business. What happened with that is our younger partners were very successful in attracting clients and bringing in new business.
The growth in large measure over the last five years has been in hiring attorneys to help support the emerging partners and the emerging business of the firm. While we've added a few lateral partners, the primary growth has been to hire lawyers who could assist in servicing the needs of our existing clients and continuing to help grow the business. We hired younger partners to help serve existing clients as recently as five or six years ago. Those partners are now developing business of their own. As the revenue of the firm has grown, the needs of attorneys for additional support has grown just as quickly. That's fueled a lot of growth in attorneys as well as other roles within the firm.
When you focused on what it means to be a partner as part of that process, what conclusion did you come to?
We used this process that we went through really as a rallying point for our firm. Many people in the firm, if not everyone, really wanted to be independent, not to merge and become part of some regional or superregional or national firm. The realization from that was, if we are going to be independent, if we are going to be successful in becoming the dominant midsize firm in Chicago, it's really on all the partners to realize that vision.
What is your law firm's approach to attracting and retaining talent?
If you look at our website, our business strategy is identified as "The LP Way." The LP Way is a five-step approach to providing an unparalleled client experience. If you look at the five steps of the LP way, the first step is to attract and retain talent. We're fond of saying "it all begins with the right people."
As part of that plan that we developed back in 2014, we focus on raising our professional development function in the firm. Prior to 2014, we had the promotions committee, which focused on promotions of associates to partner and income partners to equity partners. We realized it what was more important was focusing our systems on professional development. And creating development systems that allow our attorney to grow in all different facets of their careers. Rather than being focused solely on promotions, we re-engineered that committee to focus on building the skills that will allow someone to be successful in the practice of law. Promotions are a part of that, but promotions are a result of that. The professional development committee is focused on providing a curriculum for success for all of our lawyers and building systems to support it.
We also hired from the outside a professional development manager whose function is to look at and improve our professional development systems. It wasn't enough to recruit people, we have to retain them. And we have to give people the tools for success so they wouldn't want to leave.
The firm doesn't use billable hours to determine attorney compensation. Why is that?
We do not look at billable hours other than as a measure of how people are spending their time. Our attorney goals, our attorney dashboards, are based on revenue. We're implementing project management and process improvement techniques in order to reduce the amount of time people spend on client matters in order to become more efficient. If all we measured was billable hours, people might be concerned that the steps we're taking to improve the client experience and become more efficient would work against them. They'd think their job is to maximize billable hours. What matters is revenue, not hours. That's true for all attorneys in the firm, regardless of status or title.
We track billable hours because we want to understand where people are spending their time and how long a task takes so we can find ways to streamline and create efficiency. So we're looking at billable hours as a measure of production, but not as the goal or the end result. If we can do something in less time and price it the same way, everyone wins. We also track nonbillable hours. We call it investment time because we want to understand how people are using that time to improve their skills, serve the needs of clients, engage in the community and grow.
You said your firm has been focused on process improvement and project management. Is there anything novel you're doing in that regard?
We identified that as part of what we call P3. P3 stands for process improvement, project management and pricing. On the process side, we're looking at how work gets done in order to determine whether there are more efficient ways of doing it. It could be the use of technology, through the use of paralegals or paraprofessionals. We hired a manager of process improvement in 2012 who came into the firm solely with that task in mind.
Separately, we have a project management function where we train everyone in the firm on project management techniques. For example, we've gone through legal Six Sigma training and every attorney in the firm has been certified as at least a white belt in that system.
The third element of P3 is pricing. We introduced process improvement and project management techniques in order to reduce the amount of time required to complete a task. If we continue to bill by the hour, all we'll have done is lower the price. So we're also going outside the firm to identify what the value of our services are and how we price. We've introduced alternative fee arrangements in a number of areas of the firm.
What opportunities are there right now in the Chicago legal market?
We see a significant opportunity in the Chicago legal market for a firm in Chicago that is Chicago's law firm. You may have seen a number of firms entering the Chicago market from all over the U.S. Some of them entered the market by acquiring a local firm, others just by hiring a few people. We see far more firms in the Chicago market than were here 10 or 20 years ago. We think there's an opportunity to be a law firm focused on Chicago where we are not part of a larger firm, we are not a satellite outpost. But rather, we are a firm focused on Chicago and representing the interests of business owners, firms, individuals in Chicago. And as the market here continues to fractionalize, we think there is an opportunity for there to be a full-service, midsize firm focusing on Chicago and we want to be that firm.
Click here to view the full PDF, Reprinted with permission from Law360
---