Crain's Chicago Business Recognizes Three LP Partners – Christina Carriere Lutz, Carrie Harrington and Jason Romick – Among 2021 Rising Stars in Law
---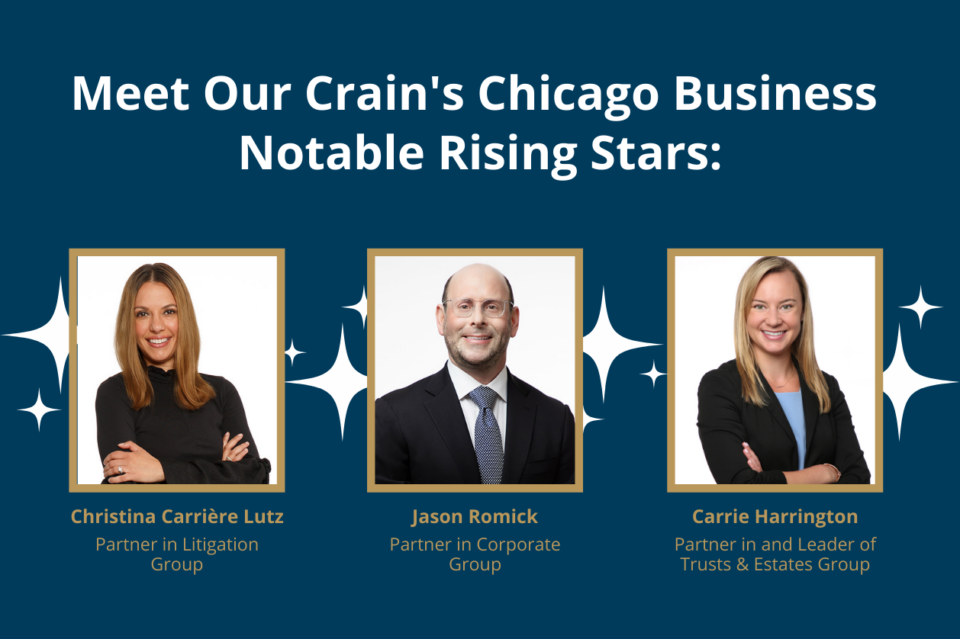 CHICAGO, September 08, 2021 – Levenfeld Pearlstein, LLC (LP) is pleased to announce that Christina Carriere Lutz, Carrie Harrington, and Jason Romick – partners in the firm's Litigation, Trusts & Estates, and Corporate Practice Groups, respectively – have been recognized by Crain's Chicago Business among its 2021 "Rising Stars in Law."
Christina Carriere Lutz is a partner in LP's Litigation Group, Chair of the firm's Diversity, Equity & Inclusion Task Force, and a member of the firm's Professional Development Committee. She represents a variety of midsized business entities and individuals throughout the litigation process, from inception through trial and on appeal. She was listed among The National Black Lawyers Top 100 in 2020 and 2021 and was named among Illinois' "40 Illinois Attorneys Under Forty to Watch" for 2018 by publishers of Chicago Lawyer magazine and Chicago Daily Law Bulletin.
Carrie Harrington is a partner in and leader of the Trust & Estates Group. She helps individuals, families, and privately held businesses to protect and transfer their assets pursuant to their goals and values in the most effective, tax efficient way possible. Carrie also assists financial institutions with trust and estate administration and controversy and routinely appears in court to handle contested matters. She works with corporate and individual fiduciaries and beneficiaries in administering and refreshing antiquated or impractical documents giving her a well-rounded practice. In partnership with National Immigrant Justice Center, Harrington currently provides pro bono legal representation to an immigrant seeking asylum in the United States.
Jason Romick is a partner in the firm's Corporate Group. He concentrates his practice on mergers and acquisitions and other strategic transactions, with a particular focus on the insurance brokerage industry. In addition, he has extensive experience representing middle market asset managers, finance companies and institutional investors in structuring, negotiating and documenting opportunistic private equity co-investments. Romick is recognized as one of the leading insurance brokerage M&A attorneys in the country, having completed almost 400 transactions, collectively representing more than $2 billion in acquired revenue. He is involved with the Alzheimer's Association, Jewish United Fund and All Kids Play.
"Each of these attorneys embodies what the firm seeks in its attorneys and leaders."
said Chairman and Managing Partner Robert Romanoff. "They represent the next generation of leaders and are moving the needle for their practice groups, the firm, and the legal community."
About Levenfeld Pearlstein LLC: Chicago-based Levenfeld Pearlstein, LLC provides legal and business counsel to sophisticated clients across a broad range of corporate, tax, real estate, estate planning, and litigation matters. LP works with clients to understand the full impact of the law on their businesses and proactively addresses their legal issues so that they can quickly return to doing what they do best. While the firm possesses the resources and depth necessary to manage the most complex matters most efficiently and cost-effectively possible, it truly differentiates itself through its commitment to "The LP Way" – the firm's model for creating an unparalleled client experience at an exceptional value.
Visit our website at www.lplegal.com, and follow us on LinkedIn at @levenfeld-pearlstein.
---