Crain's Chicago Business Recognizes Three LP Partners – Eric Fuglsang, Tom Jaros, and Steven Weiss – Among 2022 Gen X Leaders in the Law
---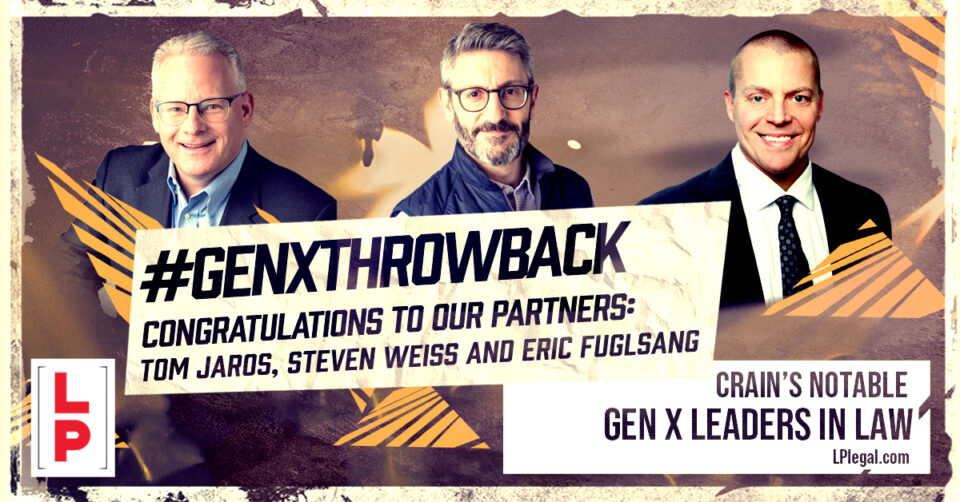 CHICAGO, IL, December 08, 2022 – Levenfeld Pearlstein, LLC (LP) is pleased to announce that Crain's Chicago Business has recognized Eric Fuglsang, Tom Jaros, and Steven Weiss among its 2022 "Gen X Leaders in the Law." The editorial feature recognizes the top Chicago area attorneys, accountants, and consultants, born between 1965 and 1980, who have made significant contributions to advancing their industry.
"Each of these attorneys is a long-standing leader in the firm and the industry, committed to empowering the next generation of leaders," said Managing Partner Jeffery Hoffenberg. "They promote inclusivity, serve as engaged mentors, and help to advance the firm and the legal industry."
Eric Fuglsang is a partner in and leader of the firm's Real Estate Group. He focuses his practice on commercial leasing and asset management, real estate finance, acquisitions and dispositions, and development. Fuglsang was recognized, in part, for his contributions as Practice Group Leader of the firm's Real Estate Group. Under his leadership, the Real Estate Group has expanded and grown in size, the types of clients the group represents, and the complexity and variety of matters on which the group works. 
Tom Jaros is a partner in the firm's Real Estate Group. He focuses on acquisitions, dispositions, financings, and joint ventures across the nation, involving nearly all asset classes. As a member of the firm's Compensation Committee, he has helped fuel growth by taking a forward-thinking approach to compensation and retention. Over the course of his tenure with LP, Jaros has served on several firm leadership committees, helping to shape the direction of the firm for the past three decades and leading the firm through periods of significant change and growth.
Steven Weiss is a partner in the firm's Corporate Group. His practice focuses on representing a wide range of clients—including closely held businesses, sophisticated private investors, family offices, financial sponsors, real estate investors, entrepreneurs, start-ups, and emerging companies—in complex business transactions. Weiss has been with LP since the beginning of his legal career, and throughout the past two decades he has been highly invested in the development of the firm. He launched the firm's Associates Committee, has been actively involved in recruiting efforts, and as a long-standing member of the firm's Professional Development Committee, Weiss has formally and informally mentored and trained many junior attorneys. He is also the firm's designated liaison with, and a North American area representative of, MSI, a global alliance of 250+ law firms and accounting firms.
*********************
About Levenfeld Pearlstein LLC: Chicago-based Levenfeld Pearlstein, LLC provides legal and business counsel to sophisticated clients across a broad range of corporate, tax, real estate, estate planning, and litigation matters. LP works with clients to understand the full impact of the law on their businesses and proactively addresses their legal issues so that they can quickly return to doing what they do best. While the firm possesses the resources and depth necessary to manage the most complex matters as efficiently and cost-effectively as possible, it truly differentiates itself through its commitment to "The LP Way" – the firm's model for creating an unparalleled client experience at an exceptional value.
Visit our website at www.lplegal.com, and follow us on LinkedIn at @levenfeld-pearlstein.
---