Crain's Chicago Business Recognizes LP Partner, Eileen Sethna Among 2020 Notable Women in Law
---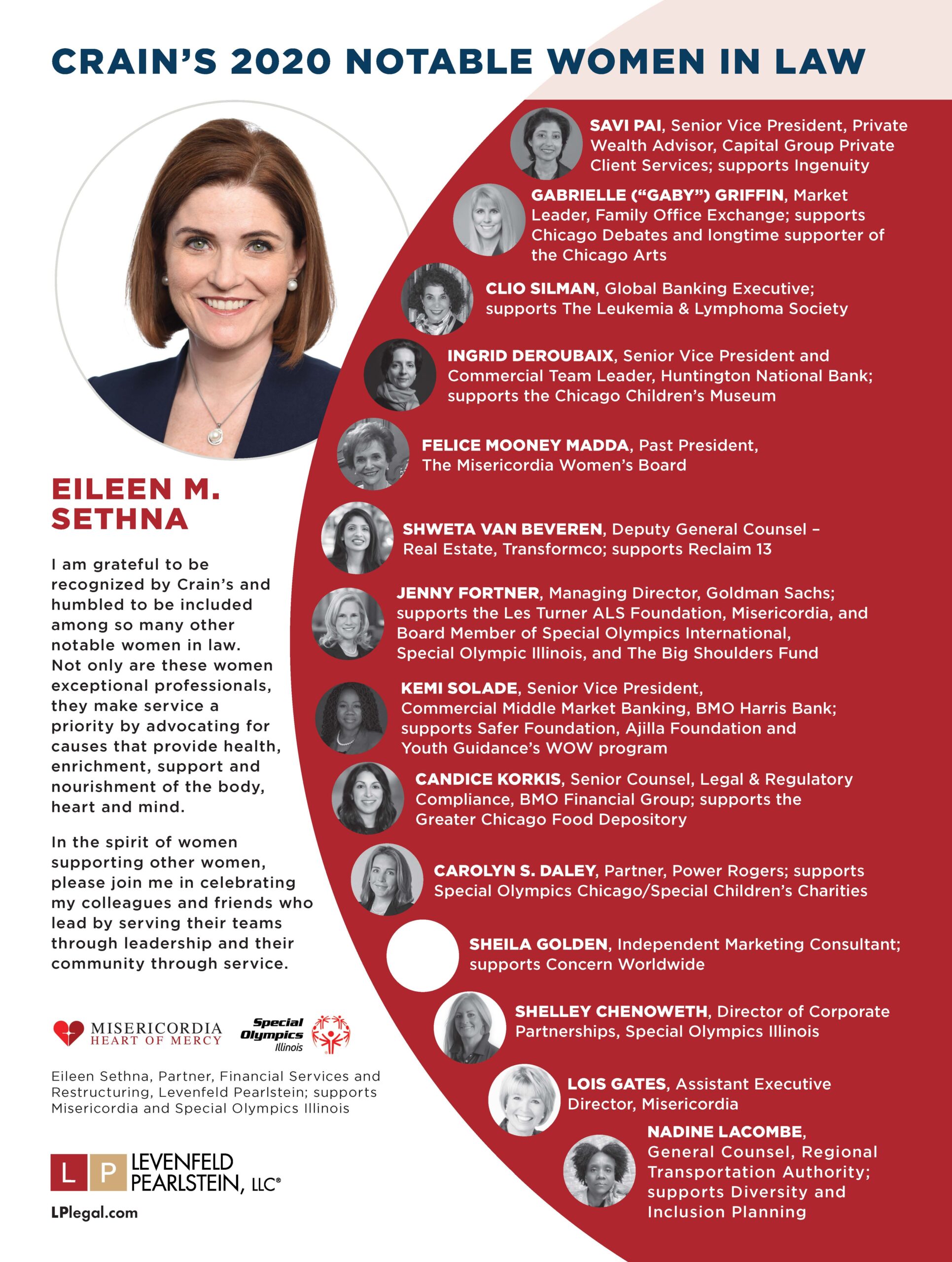 Levenfeld Pearlstein is pleased to announce that Eileen Sethna, a partner in the firm's Financial Services & Restructuring Practice, has been recognized by Crain's Chicago Business among its 2020 "Notable Women in Law".
Sethna was recognized for her success in steering clients through the deluge of reorganizations and other financial matters stemming from the COVID-19 pandemic. Sethna also generously gives of her time to support her community. She is committed to raising awareness and funding for children and adults with intellectual and developmental disabilities through her service to Misericordia, serving on both their Advisory and Women's Boards, and to Special Olympics of Illinois, where she serves on the Board of Directors.
"As an attorney and a person, Eileen embodies the best of what we seek in our team members at LP," said Robert Romanoff, the firm's Managing Partner. "We are thrilled that Crain's has also recognized the value she brings to our profession and her community."
The attorneys honored by Crain's come from a broad range of practice areas. All have been impacted by the pandemic but have skillfully adapted, advising clients on the onslaught of legal questions that have arisen, including insurance claims, staff layoffs, and furloughs, amended benefits, and safe office reopenings.
The honorees are also expanding the role of women's resource groups to make sure that young associates get the skills and confidence they need to succeed. And they reach beyond their firms to support young girls, law school students, asylum seekers, and disabled people.
Sethna is a trusted adviser to banks, financial institutions, hedge funds, real estate investors, and business owners, listening to her clients to determine a strategic approach that will achieve their specific needs and goals. Given her experience representing both lenders and borrowers, clients lean on her vast wealth of knowledge and experience in the industry.
Sethna guides her clients through underwriting, diligence, structuring, transactions, reorganizations, workouts, and other matters of insolvency. Often dealing with multifaceted and difficult matters, her breadth and depth of knowledge and her client-first approach has helped clients successfully navigate diverse challenges.
In addition to representing private companies, she has also represented the Office of the Illinois State Treasurer and was appointed by Attorney General Lisa Madigan to serve as a Special Assistant Attorney General for the State of Illinois.
Sethna was recently named incoming chair of Levenfeld Pearlstein's Financial Services & Restructuring Group.
 * * * * *
About Levenfeld Pearlstein LLC: Twice recognized by The National Law Journal as one of the nation's most innovative mid-sized law firms, Chicago-based Levenfeld Pearlstein, LLC provides legal and business counsel to sophisticated clients across a broad range of corporate, tax, real estate, and litigation matters. LP works with clients to understand the full impact of the law on their businesses and proactively addresses their legal issues so that they can quickly return to doing what they do best.
While the firm possesses the resources and depth necessary to manage the most complex matters most efficiently and cost-effectively possible, it truly differentiates itself through its commitment to "The LP Way". Unique among corporate law firms, the LP Way is the firm's model for creating an unparalleled client experience at an exceptional value. This is accomplished by complementing outstanding legal work with a commitment to knowing the client; avoiding surprises; moving with speed and quality; and establishing and consistently beating client expectations. These are grounded in the belief that every action should point toward a single goal: making the experience of being an LP client as rewarding as possible.
Visit our website at www.lplegal.com, and follow us on Twitter at @lplegal.
---