Adam Garber Recognized in Law Bulletin Publishing Company's "40 Under Forty"
---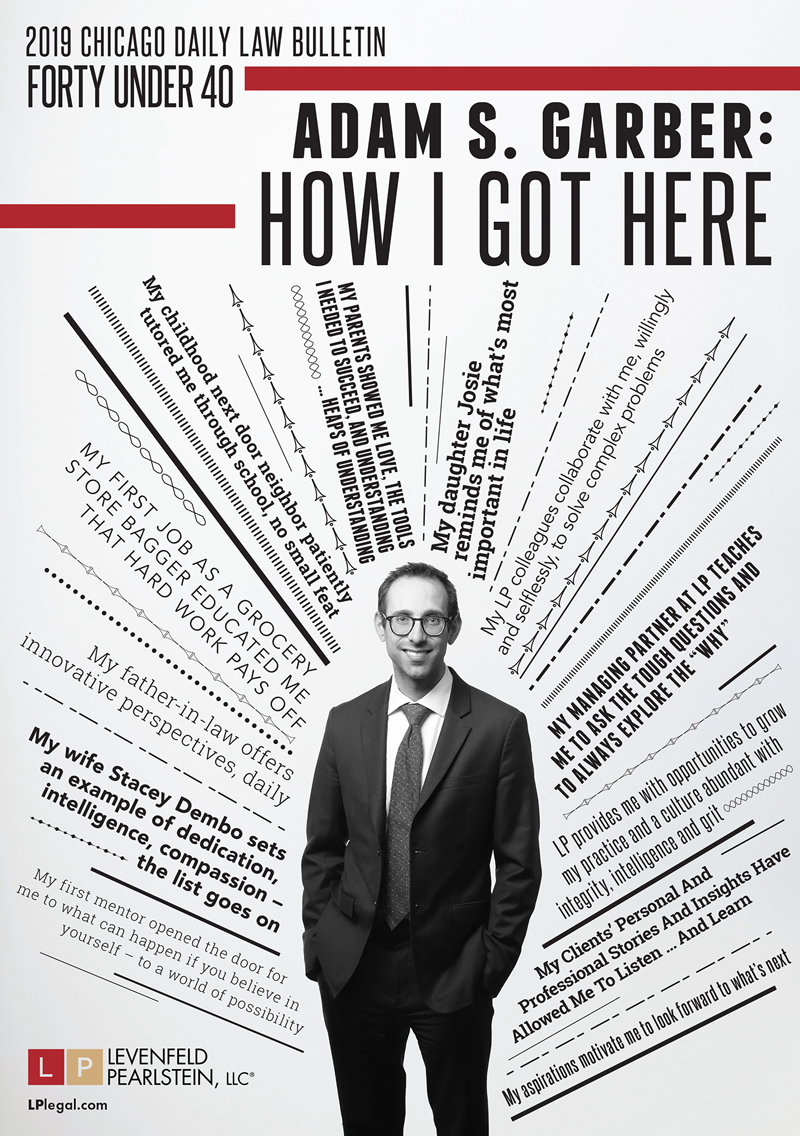 CHICAGO, September 30, 2019 – Levenfeld Pearlstein, LLC (LP) is pleased to announce that Adam Garber, a partner in its Trusts & Estates Group, has been named by Law Bulletin Publishing Company to the Illinois "40 Under Forty" list for 2019. Garber becomes the 10th LP attorney to earn this recognition from the publisher of Chicago's leading legal publications, Chicago Lawyer magazine and the Chicago Daily Law Bulletin. He is featured with other top young attorneys in a special supplement highlighting his successes.
Garber's practice involves helping families and family business owners handle their daily challenges as well as plan for the succession of their businesses. A certified public accountant as well as an attorney with an LL.M in taxation, Garber brings particular insight into tax issues as they relate to asset planning, and he has extensive experience drafting wills, trusts and other estate-planning documents. His practice also involves a wide scope of financial, estate and tax planning matters as they relate to business and asset ownership in various forms.
Garber focuses his work on providing families with the tools necessary to transfer their assets from one generation to the next. Each family and family business have their own unique circumstances, so he understands that there is no such thing as a "one-size-fits-all" approach to estate planning. Garber digs deep into each family's situation to craft a tailored plan that best suits their needs. He also understands that estate planning is about real people and his priority is ensuring clients' wishes are met in the most effective way.
LP has a strong tradition of recruiting and retaining Chicago's top young legal talent, as evidenced by their regular inclusion in Law Bulletin Publishing Company's "40 Under Forty" list. Past honorees include Litigation partner Christina Lutz (2018), Real Estate partner Elizabeth O'Brien (2017), Labor & Employment partner Jason Hirsh (2015), Corporate partner Michael St. Peter (2014), Labor & Employment partner Laura Friedel (2011), Real Estate partner Brian Kozminski (2009), Labor & Employment partner, Peter Donati (2006) and Community Associations partner Howard Dakoff (2003).
About Levenfeld Pearlstein LLC: Twice recognized by The National Law Journal as one of the nation's most innovative mid-sized law firms, Chicago-based Levenfeld Pearlstein, LLC provides legal and business counsel to sophisticated clients across a broad range of corporate, tax, real estate and litigation matters. LP works with clients to understand the full impact of the law on their businesses and proactively addresses their legal issues so that they can quickly return to doing what they do best.
While the firm possesses the resources and depth necessary to manage the most complex matters in the most efficient and cost-effective manner possible, it truly differentiates itself through its commitment to "The LP Way." Unique among corporate law firms, the LP Way is the firm's model for creating an unparalleled client experience at an exceptional value. This is accomplished by complementing outstanding legal work with a commitment to knowing the client; avoiding surprises; moving with speed and quality; and establishing and consistently beating client expectations. All of these grounded in the belief that every action should point toward a single goal: making the experience of being an LP client as rewarding as possible.
---
Related insights