Levenfeld Pearlstein's Corporate Group Expands with the addition of M&A Lawyer Christopher Andres-Pochon
---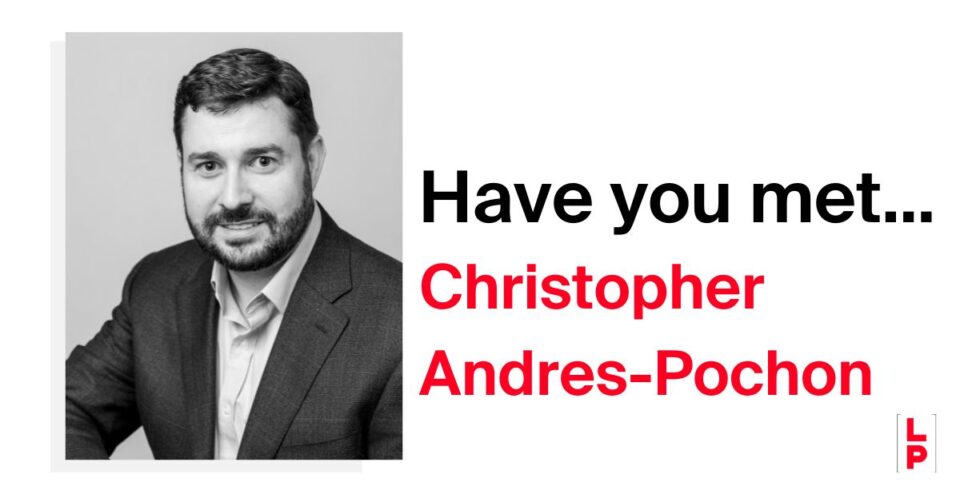 CHICAGO, May 23, 2023 – Levenfeld Pearlstein is delighted to announce that Christopher Andres-Pochon has joined the firm as a Partner in its Corporate Group. Prior to joining LP, Christopher was a partner with Mayer Brown in its Chicago office.
Christopher's practice focuses on mergers, acquisitions, divestitures, joint ventures and corporate governance matters. He has extensive experience advising private equity and strategic clients on both buy-side and sell-side transactions in the financial services and fintech industries. He also counsels clients on commercial and residential joint venture projects and other investment opportunities.
"Chris brings substantial experience leading M&A transactions and private equity deals at a top-tier firm," said Rob Connolly, leader of LP's Corporate Group. "Moreover, Chris shares LP's commitment to providing an unsurpassed client experience and attentive client service."
In addition to his active legal practice, Andres-Pochon is a frequent writer and speaker on issues related to corporate and securities law. He earned his J.D. from Harvard Law School, where he was executive editor of Harvard Journal of Law & Public Policy. He earned his B.A. from Amherst College and his M.A. from Ben-Gurion University of the Negev in Israel.
* * * * *
About Levenfeld Pearlstein LLC: Chicago-based Levenfeld Pearlstein, LLC provides legal and business counsel to sophisticated clients across a broad range of corporate, tax, real estate, and litigation matters. LP works with clients to understand the full impact of the law on their businesses and proactively addresses their legal issues so that they can quickly return to doing what they do best. While the firm possesses the resources and depth necessary to manage the most complex matters most efficiently and cost-effectively possible, it truly differentiates itself through its commitment to "The LP Way". Unique among corporate law firms, the LP Way is the firm's model for creating an unparalleled client experience at an exceptional value. Visit our website at www.lplegal.com, and follow us on LinkedIn and on Twitter at @lplegal.
---