Levenfeld Pearlstein's Trust & Estates Practice Grows with the Addition of Suzanne Shier and Stephanie Ross
---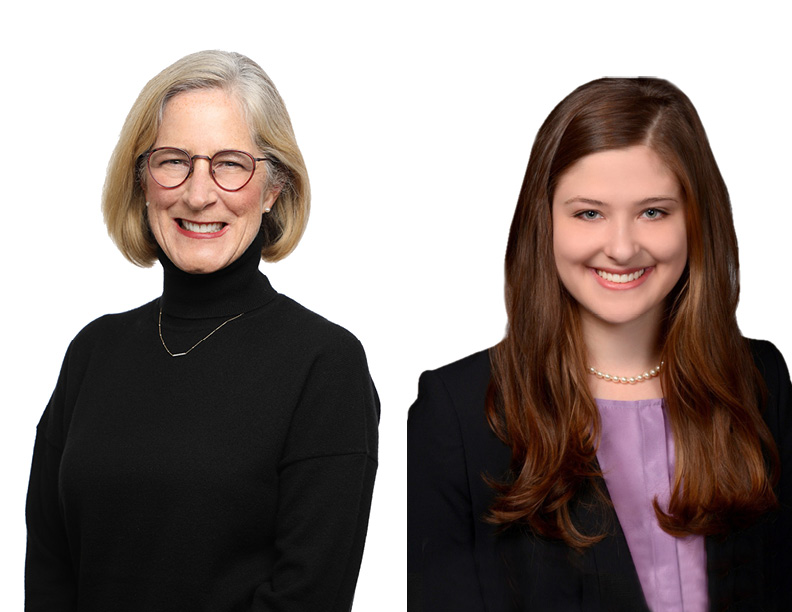 CHICAGO, October 20, 2020 – Levenfeld Pearlstein is pleased to announce that its Trusts & Estates Group is growing with the addition of two new strategic hires.
Joining the firm as Of Counsel, Suzanne Shier focuses on positioning clients to use their assets to achieve the desired impact, and she advises her clients to use their resources to fulfill the aspirations they have for their families, businesses, and communities. She has decades of experience both in private practice and with a leading global wealth management firm. Her clients include executives, entrepreneurs, professionals, family wealth owners, corporate fiduciaries, and charities with both domestic and international residence and assets.
"I've known Suzanne for more than 25 years, and she is a wise advisor, a compassionate counselor, and a committed colleague," said Rob Romanoff, the firm's Managing Partner. "She brings a calm reassurance to her clients and colleagues alike, and we are thrilled that she is joining the LP team."
Shier is also an adjunct professor in the Northwestern Pritzker School of Law LLM in Taxation Program, where she mentors law students on ways to use their talents to serve their clients. She also serves on philanthropic boards to provide guidance on fulfilling their mission, and is active in the civic community, concentrating on access to educational excellence at all levels. She serves on the Executive Committee of Kids Hope USA, Chicago Scholars Foundation, and Hope College. Shier earned her J.D., cum laude, from Loyola University Chicago School of Law, her LLM from DePaul University School of Law, and her B.A., with distinction, from the University of Michigan.
Also joining the firm is Stephanie Ross, who focuses on helping individuals, families, and closely held businesses protect their wealth and efficiently transfer their estates. Ross has advanced knowledge in numerous areas of tax law, including fiduciary income tax and the transfer taxes. This tax background allows her to provide her clients with sophisticated wealth transfer planning. Ross has several years of experience with working with high-net-worth clients at The Northern Trust Company, including most recently serving as Vice President, Associate Wealth Advisor. Ross earned her J.D. and B.A. from Loyola University Chicago.
"We are excited to welcome Suzanne and Stephanie to the firm," said Stuart Kohn, chair of the firm's Trusts & Estates Group. "Suzanne brings astute insight based on her decades of experience, and Stephanie brings a creative energy to her relationships with both clients and colleagues."
LP's experienced and skilled Trusts & Estates Group helps individuals and families to achieve their business and personal planning goals, whether through gift planning, asset protection, charitable giving, or estate planning. The new additions will enable us to continue to provide high-quality service to our growing client base.
About Levenfeld Pearlstein LLC: Twice recognized by The National Law Journal as one of the nation's most innovative mid-sized law firms, Chicago-based Levenfeld Pearlstein, LLC provides legal and business counsel to sophisticated clients across a broad range of corporate, tax, real estate, and litigation matters. LP works with clients to understand the full impact of the law on their businesses and proactively addresses their legal issues so that they can quickly return to doing what they do best.
While the firm possesses the resources and depth necessary to manage the most complex matters most efficiently and cost-effectively possible, it truly differentiates itself through its commitment to "The LP Way". Unique among corporate law firms, the LP Way is the firm's model for creating an unparalleled client experience at an exceptional value. This is accomplished by complementing outstanding legal work with a commitment to knowing the client; avoiding surprises; moving with speed and quality; and establishing and consistently beating client expectations. These are grounded in the belief that every action should point toward a single goal: making the experience of being an LP client as rewarding as possible.
Visit our website at www.lplegal.com, and follow us on Twitter at @lplegal.
---
Related insights