Levenfeld Pearlstein Promotes Three Leaders to Income Partner, Equity Partners in 2020
---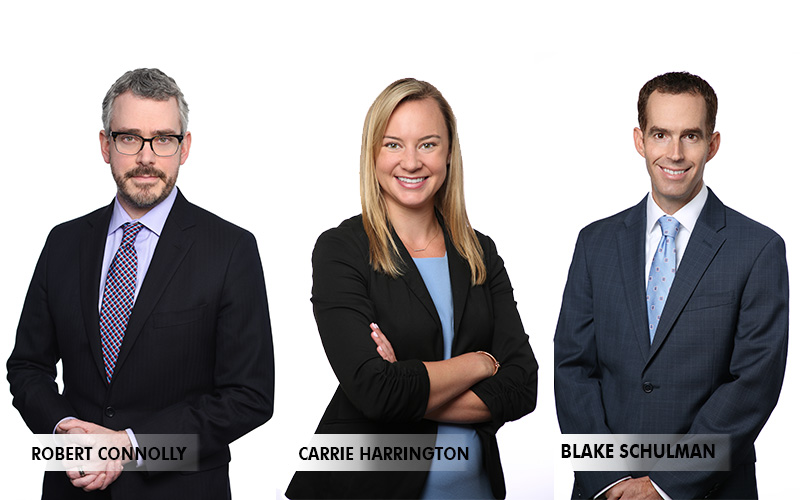 CHICAGO, January 8, 2020 – Levenfeld Pearlstein, LLC (LP) is pleased to announce that Carrie A. Harrington, Robert E. Connolly and Blake E. Schulman have earned promotions beginning this year. Each is a valued and skilled member of LP's partnership.
Carrie Harrington has been elected as an income partner. She has proven herself a critical member of LP's Trusts & Estates practice group and has had a great impact on the firm with her expertise in probate and T&E litigation. A promising associate with the firm since 2015, Harrington helps individuals and families protect wealth and transfer assets in the most effective way. She listens to her clients to fully understand each distinct situation before applying the proper tools to meet her clients' overall goals. She is known for her creativity and attention to detail when strategically planning and is well-rounded in her practice. "I appreciated your clear, concise and organized communication of the decisions that I needed to make. Aside from the obvious not so much fun part of estate planning, I procrastinated doing this for so long because I didn't understand where to start. You made this so easy for me," commented one Trusts & Estates client of Harrington.
Robert Connolly has been elected as an equity partner. Over the past 21 years in the Corporate practice group (first joining LP as a paralegal before becoming an associate and partner), Connolly has been an integral part of LP's culture. He has spearheaded numerous process improvement initiatives that have added tremendous value to clients, referral sources and the firm. Talented and well-respected in his practice, Connolly works with buyers, sellers, investors and operators of privately-held businesses throughout the company's life-cycle. He helps his clients strategize, structure, negotiate and close complex business transactions for a variety of matters across a range of industries. His clients include buyers and sellers in mergers and acquisitions transactions, companies undergoing meaningful growth or transition, private equity sponsors and others who buy, invest in or operate privately-held companies. One managing partner at a private investment firm said of Connolly, "Rob has been a trusted advisor to [our firm] since the day we filed our initial corporate papers. His sage advice during and around transactional engagements continually proves to be of great value."
Blake Schulman has been elected as an equity partner. Schulman joined LP as a partner in 2014 and has been a dedicated leader in LP's Real Estate practice group. His technical proficiency and work ethic bring immense influence at the practice and firm level. Committed to unparalleled client service, Schulman works with many of the firm's largest clients and on some of the largest and most complex transactions. He represents institutional investors and developers in acquisitions and dispositions, financings, joint ventures, leasing, construction and commercial real estate development. Additionally, he has extensive experience helping clients across a broad range of asset classes, including office, industrial and retail properties, mixed use developments, manufactured housing communities, hotels and student housing developments, among others. "Blake is organized, detail-oriented and strategic in his approach. His guidance has been helpful in difficult situations to achieve successful results," praised one real estate client.

"Carrie, Rob and Blake have individually contributed to creating an enduring, positive impact in our culture and for our clients," said LP Chairman & Managing Partner, Robert A. Romanoff. "Collectively, their unique perspectives, in-depth knowledge and collaborative approaches reinforce our already strong leadership team. We sincerely congratulate each of them on these significant career milestones and look forward to the continued value and excellence they will bring."
About Levenfeld Pearlstein, LLC: Twice recognized by The National Law Journal as one of the nation's most innovative mid-sized law firms, Chicago-based Levenfeld Pearlstein, LLC provides legal and business counsel to sophisticated clients across a broad range of community association, corporate, tax, real estate, and litigation matters. LP works with clients to understand the full impact of the law on their businesses and proactively addresses their legal issues so that they can quickly return to doing what they do best. While the firm possesses the resources and depth necessary to manage the most complex matters in the most efficient and cost-effective manner possible, it truly differentiates itself through its commitment to "The LP Way." Unique among corporate law firms, The LP Way is the firm's model for creating an unparalleled client experience at an exceptional value. This is accomplished by complementing outstanding legal work with a commitment to knowing the client; avoiding surprises; moving with speed and quality; and establishing and consistently beating client expectations. All of these grounded in the belief that every action should point toward a single goal: making the experience of being an LP client as rewarding as possible.
Visit our website at www.lplegal.com, and follow us on LinkedIn for more firm news and updates.
---