Crain's Chicago Business Recognizes LP Chief Financial Officer Shannon DeRubertis Among 2023 Notable CFOs
---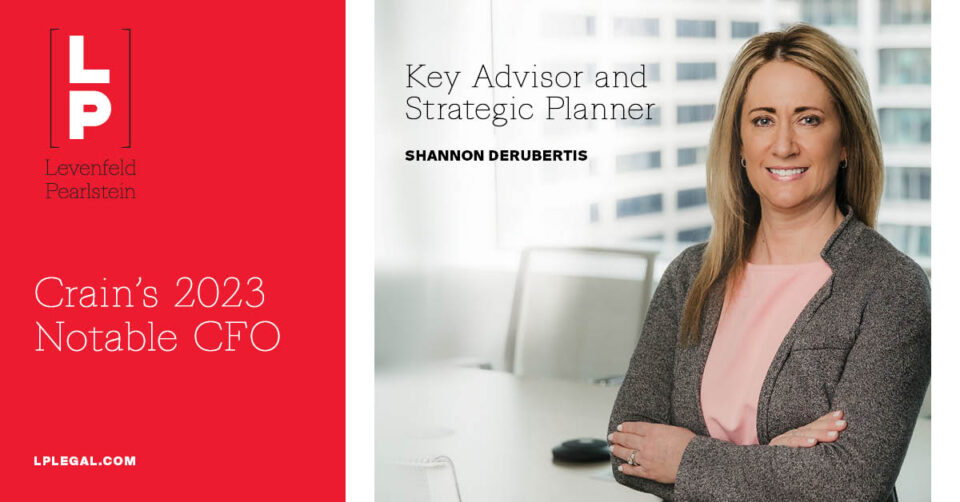 CHICAGO, April 3, 2023 – Levenfeld Pearlstein, LLC (LP) is pleased to announce that LP's Chief Financial Officer Shannon DeRubertis has been recognized by Crain's Chicago Business among its 2023 "Notable CFOs."
DeRubertis works closely with LP's CEO Jeremy Gresham and other officers to shape the firm's strategic direction and corresponding tactical efforts. She offers advice and supporting data regarding various projects, such as pricing/rate negotiations, business intelligence, client teams, retirement plans, insurance renewals, and other projects that position LP for financial success. In addition to guiding the firm and leading a team of a dozen professionals, she recently implemented an innovative business intelligence initiative to transform data into strategic actions and employed a budget software system to improve efficiencies and control expenses.
She was recognized for guiding the firm through a period of substantial internal growth and external economic uncertainty by developing cutting-edge solutions and the resources necessary to support LP's increased demand and growth.
"We are thrilled for Shannon to receive this recognition and honored that she is part of the LP team," said Gresham. "With her team-oriented attitude, dedication to professionalism, and focus on efficiency, she embodies the LP Way and our commitment to provide an unparalleled client experience."
About Crain's Chicago Business 2023 Notable CFOs: If the challenges of the past few years have demonstrated anything, it's that an effective CFO is an organization's center of gravity. The chief financial officers profiled here led their companies through COVID and continue to handle pandemic-related financial situations. They've navigated supply chain disruptions and labor challenges by managing relief funds to cushion the blow of revenue declines and the burden on employees. Crain's Chicago subscribers can view the full list of Notable CFOs here.
About Levenfeld Pearlstein LLC: Chicago-based Levenfeld Pearlstein, LLC provides legal and business counsel to sophisticated clients across a broad range of corporate, tax, real estate, estate planning, financing, and litigation matters. LP works with clients to understand the full impact of the law on their businesses and proactively addresses their legal issues so that they can quickly return to doing what they do best.
While the firm possesses the resources and depth necessary to manage the most complex matters as efficiently and cost-effectively as possible, it truly differentiates itself through its commitment to "The LP Way" – the firm's model for creating an unparalleled client experience at an exceptional value.
Visit our website at www.lplegal.com, and follow us on LinkedIn at @levenfeld-pearlstein.
---