Chambers HNW Guide Ranks LP Trusts & Estates Group Best in Illinois for 2018
---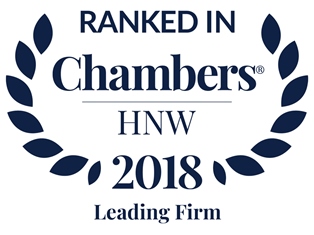 CHICAGO July 23, 2018 — Levenfeld Pearlstein is pleased to announce that for the third consecutive year, its Trusts & Estates Group has been ranked by the Chambers High Net Worth Guide as among the best law practices in Illinois. Along with the Band 2 firm ranking, LP Trusts & Estates partners Stuart Kohn, Robert Romanoff, Sheri Warsh, and Lauren Wolven are also ranked individually. Now in its third year, Chambers High Net Worth is the venerable Chambers and Partners' only publication specifically aimed at the international private wealth market.
According to Chambers, one interviewee said this of LP's group: "Their attention to detail is outstanding. Over the years the experience that we've had with them with our clients has been absolutely fantastic. They have saved our clients so much money and helped them make such excellent decisions on wealth preservation and legacy issues. They're just a beacon of light." Another source states that: "Their culture is unbelievable – they always think of the client first. That's what we really like and that's the best way to service."
LP's experienced and highly skilled Trusts & Estates Group helps individuals and families to achieve their business and personal planning goals, be it gift planning, charitable planning, or estate planning. The group, which includes three members of the prestigious American College of Trust and Estate Counsel, drafts basic estate plans and those spanning multiple generations, states, and businesses. The group also handles complex probate and trust administration, business succession planning, and charitable foundation formation and advisory, among other services. With decades of experience among the group's members, there is likely no scenario they have not encountered.
Stuart Kohn
Head of LP's Trusts & Estates Group, Kohn concentrates his practice in estate, gift and income tax planning and business succession planning, and has significant experience with complex estate and trust administration matters. Stuart also works with clients to design and implement asset protection strategies. A member of ACTEC, Stuart also is active in a number of legal organizations, having served as the Chair of the Executive Committee of the Chicago Bar Association's Trust Law Committee and President of the Board of Directors of the Greater North Shore Estate & Financial Planning Council. Kohn is praised by Chambers interviewees as "methodical, bright, kind, a good listener" and "very diligent, very exacting, extremely accurate in what he does."
A partner in LP's Trusts and Estates Group, Romanoff also serves as Chairman and Managing Partner of the firm. He is described by a Chambers interviewee as "one of the top lawyers in Chicago," and another source states that "his level of knowledge and his expertise is outstanding, the highest level it can be." Throughout his decades of experience as a Trusts & Estates attorney, Romanoff has counseled high net worth individuals, owners of closely held businesses, and their families on an array of estate, gift and income tax planning, and business succession planning. In addition to his practice, he is also active in charitable and civic matters. He is a past President of Moriah Congregation in Deerfield, Ill., past chair of the Professional Advisory Committee of the Jewish Federation of Metropolitan Chicago, serves as an advisor to several charitable organizations in Chicago, is a member of the Executives' Club of Chicago, and a graduate of the renowned Wexner Heritage Foundation program for Jewish leaders.
Previously named among Chicago's "Most Influential Women Lawyers" by Crain's Chicago Business, Warsh concentrates her practice in estate, gift and income tax planning and business succession planning matters. Her work often involves many moving pieces, adding a level of complexity to situations that may already be emotionally difficult for her clients. In light of that, Warsh recognizes that technical knowledge is only the beginning of effective and meaningful representation. In addition to her work with high net worth clients on all aspects of wealth preservation and planning, she also has significant experience in the administration of estates, trust, disabled persons and minors. One Chambers interviewee commented about Warsh: "she's very experienced, technically very sophisticated," and another source describes her as "very bright, very level-headed, meticulous and devoted to her clients."
Named alongside Warsh by Crain's Chicago Business as one of Chicago's "Most Influential Women Lawyers," Wolven concentrates her practice on estate planning, representing corporate fiduciaries, tax and succession planning for privately held businesses, and trust and estate administration and litigation. A market insider states about Wolven: "she is a star – she has developed a national reputation, she's a very strong lawyer." Wolven works extensively with foundations and other charitable organizations with respect to administration, tax and planning issues. An ACTEC Fellow, Wolven is also the State Chair-Elect for the organization's Illinois region. She is also past president and director of the Chicago Estate Planning Council, a past Board Member of the Illinois Institute for Continuing Legal Education and served several terms on the Executive Committee of the Chicago Bar Association Trust Law Committee. Wolven was named by Law Bulletin Publishing Company as one of its "40 Under 40" in 2010.
About Levenfeld Pearlstein LLC: Twice recognized by The National Law Journal as one of the nation's most innovative mid-sized law firms, Chicago-based Levenfeld Pearlstein, LLC provides legal and business counsel to sophisticated clients across a broad range of corporate, tax, real estate, and litigation matters. LP works with clients to understand the full impact of the law on their businesses and proactively addresses their legal issues so that they can quickly return to doing what they do best.
While the firm possesses the resources and depth necessary to manage the most complex matters in the most efficient and cost-effective manner possible, it truly differentiates itself through its commitment to "The LP Way". Unique among corporate law firms, the LP Way is the firm's model for creating an unparalleled client experience at an exceptional value. This is accomplished by complementing outstanding legal work with a commitment to knowing the client; avoiding surprises; moving with speed and quality; and establishing and consistently beating client expectations. These are grounded in the belief that every action should point toward a single goal: making the experience of being an LP client as rewarding as possible.
Visit our website at www.lplegal.com, and follow us on Twitter at @lplegal.
---
Related insights