Beyond the First-Day Lunch: How to Welcome New Employees in a Remote World
---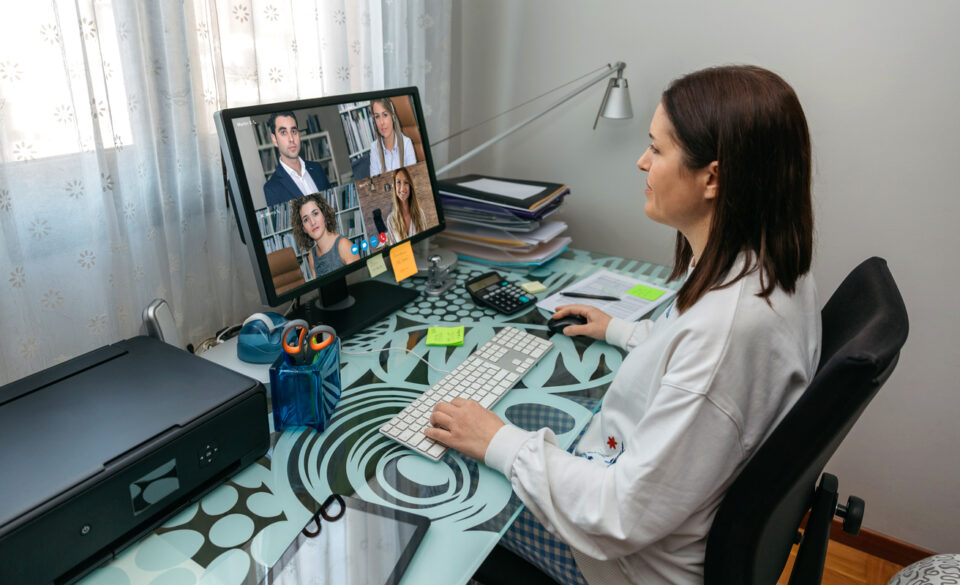 Author: Katie Palumbo
Whether you are onboarding new employees or simply trying to improve the communication amongst your current employees, creating connections has never been more complicated. As Experience and Engagement Manager at Levenfeld Pearlstein, a Chicago-based law firm, I'm currently leading several experience-driven initiatives for employees with a current focus on reimagining our firm's onboarding program.
The power of connection during this time cannot be overstated – especially in the impressionable moment of welcoming a new member to your team. As with many companies, the shift to a completely virtual hiring and onboarding process was a sudden and unexpected transition due to the pandemic. We needed to explore a new model and approach to new hire onboarding.
As with our pre-COVID work environment, the priority objectives of onboarding are to (1) effectively integrate a new employee into their team and the firm and (2) channel a new employee's energy and enthusiasm into learning and socialization.

How to Expedite Connections Via your Onboarding Program
As I previously shared in this article, meaningful connection is imperative to employee engagement. Here are a few suggestions for ways to facilitate connections within your onboard program, especially during our remote work environment:
Modify your orientation sequence.
Consider shifting your meet and greets and other social interactions to the front of your orientation program with any general session or traditional classroom-style training balanced throughout.

Introduce the right technology and your key communication tools.
First, make sure your technology equipment is inclusive by ensuring that all employees have equal capabilities to connect. For instance, if a key communication tool is video conferencing, it's critical that all employees have camera access. At LP, we have taken intentional steps to ensure that all current employees and new employees going forward have the right technology.
Prioritize your key technology training as soon as possible on Day 1. It's critical to get your new employee online and comfortable with their new setup.
Finally, introduce new employees to key communication tools and how to best use them within the firm. Introduce them to your mediums like Teams, Skype, and Slack, and share general norms, including if your people are higher users of video calls or the chat function. This introduction step can be an opportunity to demonstrate firm culture around flexibility and acknowledgment of varying comfort levels with technology. It is also important to recognize that not everyone's schedules look the same, and not everyone's environments are always conducive to video, so there should be variety in your approach to communication.
Strategies for Creating Valuable Connections
Connection isn't a one-and-done process; it is more of a slow-and-steady relationship. As such, your onboarding program shouldn't be limited to one or two days but a longer period so that meaningful connections can be developed. Here are a few ways to do so:
Align key team members who will influence connections throughout a new employee's onboarding experience.
It's a group effort and not solely on the shoulders of your HR or Talent function. Encourage other leaders in the organization to reach out to the new hire to introduce themselves.

Identify key connections ahead of time and have an introduction plan and format.
Identify leaders within your organization, key cross-department teams, cross-practice teams, and champions of the firm culture. If you have a buddy program, modify your program to include the buddy as a key influencer in creating these connections. These should be casual and inviting conversations where current employees briefly explain what they do and how they might work together, with the added personal touch.

If you don't have a buddy program, considering implementing one.
A buddy program can boost your onboarding program in a variety of ways. A buddy can be someone outside of the team that can serve as a resource to day-to-day firm culture or someone on the team who can guide best practices and workflow at the team level.

Identify a key connector to attend any upcoming company events and extend an invitation to your new employee.
New hires will have a better experience at their first company events if they have a familiar face to attend with them. Having someone extend a personal invitation to accompany the standard calendar invitation creates an inclusive moment, is an opportunity for dialogue around firm culture related to the event, and emphasizes that current employees view these engagements as a priority which sets the tone for other engagements going forward.
For example, suppose your firm is hosting a town hall. In this case, it is an opportunity to share more details as to what the new employee can expect. Dialogue might include "our firm hosts a town hall quarterly," "this is an excellent opportunity to ask questions of firm leadership in an open forum," "transparency is an integral part of our culture, and this is one way we uphold this value."

Create smaller bursts of connection throughout the first 90 days and with more intimate groups to encourage more engaging dialogue and stronger relationship building

Diversify connection tactics in the appropriate way for your organization.
Every moment of connection doesn't need to look the same. Consider a mix of the following approaches: a welcome lunch with their core team the first week (consider delivering a snack pack, meal, or delivery service gift card to the attendees before the virtual lunch); one-on-ones with core team members or other key contacts in the firm framed as a setting to get to know each other and explore how they will be working together; small group chats with other team members, departments, or practices; spontaneous connections and outreach from current employees; and encouraging attendance at firm engagements to further their network.

While the pandemic has made hiring and onboarding more challenging, it has also given us opportunities to reimagine how we are integrating new hires into the workforce. By considering ways to expedite connections in your onboarding program, you can foster greater employee engagement that will reap benefits for a long time to come.
---