Strip Malls Show Resilience in an Evolving Commercial Real Estate Market
---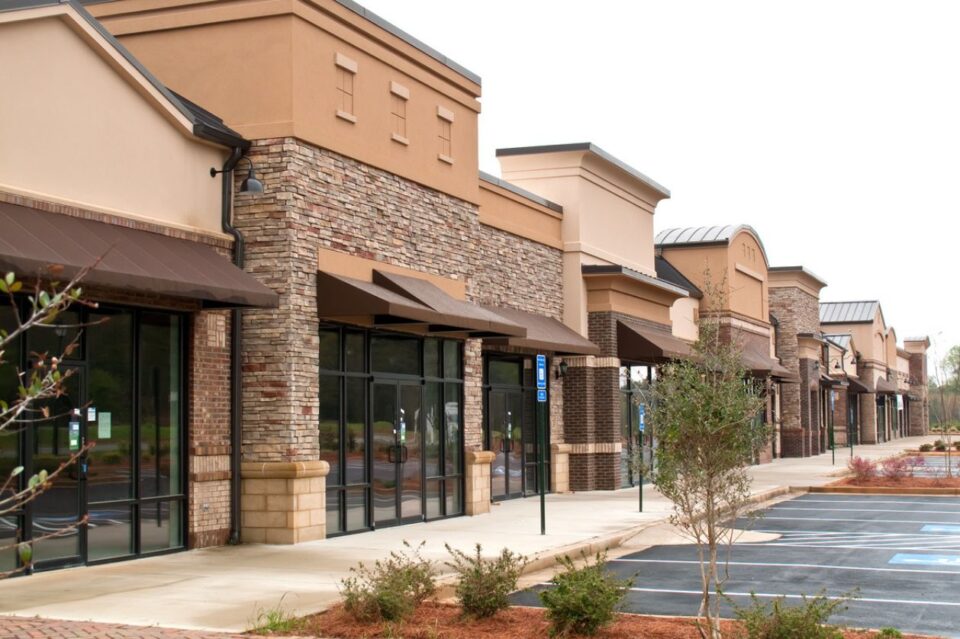 One need only drive down their suburban main street to witness the evolution – or perhaps renaissance – of the ubiquitous strip mall. Where there was once a PetSmart, there may now be a Bath & Body Works. Family Video may have become Aldi, Abercrombie & Fitch may even arrive to provide your teens with a quick stop for some new jeans.
While much of the discussion surrounding the commercial real estate market has been focused on the lack of demand for urban office space, a surprising asset class has quietly become a darling of the industry – the strip mall.
Despite its not-so-glamorous persona, the strip mall remains a solid investment, even as shopping malls stumble. This article shares the signs of health for strip malls, the reasons they are thriving, and key takeaways for investors, landlords, developers, and tenants.
Signs that Strip Malls Are a Healthy Investment
According to real-estate advisory firm Green Street, as reported in the Wall Street Journal, the leased occupancy rate at strip center real-estate investment trusts (REITs) was 95.3% in the first quarter of 2023 – a rate that hasn't been seen since eight years ago. Physical occupancy was 92.4%, about the same as pre-pandemic levels.
What's more, Paulina Rojas Schmidt, who leads Green Street's strip mall team, told the Wall Street Journal the reason for the gap between leased and physical occupancy rates is that landlords are signing leases more quickly than retailers have been able to move in. The quick turnaround from one tenant to the next is a positive signal.
Other signs of health in the strip mall segment, as reported by the Wall Street Journal:
Landlords don't need to split large anchor spaces as frequently as they did in 2017 and 2018. Instead, landlords can rent these spaces to larger single tenants.
Releasing spreads—or the difference between the rent of the previous tenant and the incoming tenant—have steadily increased since the measure sank in 2020.
Foot traffic at strip center REITs was only 8% lower than its 2019 levels, compared to the 18% decline at mall giant Simon Property Group.
Why Are Strip Malls "The Cool Kid" Now?
One of the primary reasons strip malls are experiencing a comeback is the shift to flexible workplaces. Strip malls – mixed-used facilities often suburban and conveniently located off major roadways with ample parking, tout convenience, especially as people spend more time close to their homes post-pandemic. The migration of residents from city to suburbs during the pandemic has also resulted in an increase in visits to strip malls.
The Wall Street Journal reports that, on average, office occupancy remains at about half of pre-pandemic levels in ten key metro areas. With workers spending more time at or near home, they visit strip malls to grab a cup of coffee, get lunch, or get a haircut – things they used to do near their offices in city centers. Demand for personal care businesses, including massage therapists, chiropractors, and dentists, has been strong at strip malls since the pandemic. Consumers who regularly visit strip center anchor tenants, such as grocery stores, are driving traffic to these so-called "filler tenants." And as local shops and service providers close their doors, national retailers who have reconsidered their presence in traditional malls are shifting into local strip centers to satisfy the needs of hybrid workers taking a break during their "hybrid" work day.
Additionally, despite the increase in online orders, the Wall Street Journal reports that "physical retail is being used to fulfill e-commerce orders and returns." Consumers like having a store near their home if they want to place an order online and pick it up or return purchases to the store.
Key Takeaways for Investors, Landlords, Developers, and Tenants
Strip shopping centers may be well positioned to weather future market fluctuations due to the strength of anchor tenants, the migration of consumers to the suburbs, and the increase in traffic to strip centers resulting from hybrid work arrangements. The lower occupancy costs of suburban strip centers may entice national retailers to reconsider the mall and test the waters of the suburbs. This may bode well for owners pursuing a safer investment.
Keep in mind that a tenant with a proposed use that is new, unusual, or slightly off the beaten path may need guidance in obtaining zoning relief from a municipality in order to receive necessary assurances to invest in a new location. LP has been successful in working with municipalities to encourage interpretation of existing zoning ordinances to permit uses that have not previously been contemplated in certain zoning districts, and in seeking zoning relief for properties to permit unique uses that will benefit the municipality, the landlord, and the tenants.
---
Related insights
October 25, 2023
Addressing Cybersecurity Risks in the Construction Industry: 5 Things Companies in the Construction Industry Should Consider
Read More
September 20, 2023
Construction Wage Requirements on Federally Funded Projects: New Labor Department Rule Updates Davis-Bacon Wage Requirements Effective October 23, 2023
Read More