Levenfeld Pearlstein's Financial Services & Restructuring Group Expands with the Addition of Bankruptcy Attorney Ryan Hardy
---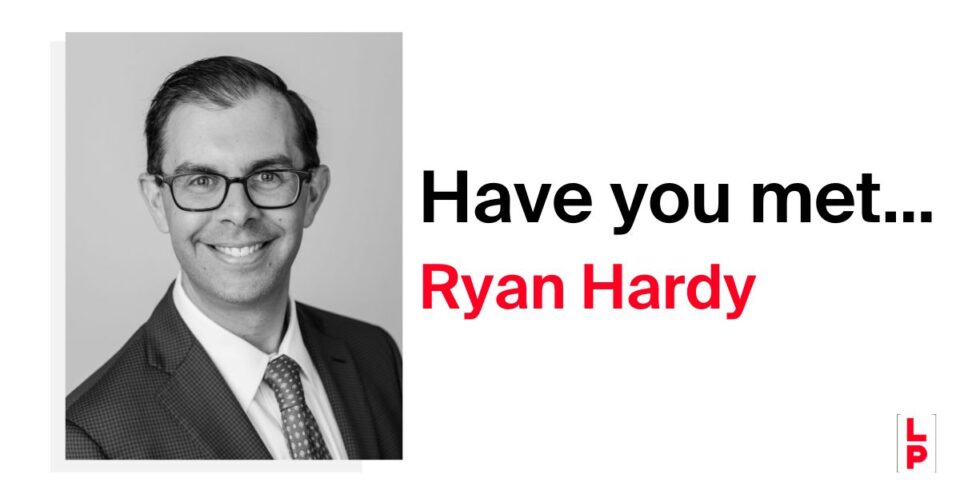 CHICAGO, August 30, 2023 – Levenfeld Pearlstein (LP) is pleased to announce that Ryan Hardy has joined the firm as a Partner in its Financial Services & Restructuring Group.
Hardy's practice focuses on representing clients in complex financial disputes both in and out of bankruptcy courts. His bankruptcy representations have included debtors, secured lenders, trade creditors, landlords, official committees, and asset buyers. Hardy has led litigation on complex issues such as collateral disputes, adequate protection, DIP facilities, dismissals and conversions, plan confirmation, stay relief, employment matters, and subchapter V actions.
Additionally, Hardy has a robust practice outside the bankruptcy courts, including representing debt collectors in consumer litigation and related regulatory matters, defending financial institutions against borrower claims, and representing parties interested in receivership proceedings. He has valuable first-chair trial and arbitration experience and has briefed and argued appeals before the Seventh and Eighth Circuit Courts of Appeals and various state appellate courts.
"Ryan's complex litigation experience in and around critical insolvency issues complements our team and aligns in service with our clients' needs," said Eileen Sethna, a partner in and leader of the firm's Financial Services & Restructuring Group. "What's more, as a collaborative and seasoned trial attorney, Ryan's sophisticated and dynamic advocacy skills help clients navigate disputes when they arise."
Hardy earned his J.D., magna cum laude, from St. Louis University School of Law and his B.A. from the University of Puget Sound.
* * * * *
About Levenfeld Pearlstein LLC: Chicago-based Levenfeld Pearlstein, LLC provides legal and business counsel to sophisticated clients across a broad range of corporate, tax, real estate, and litigation matters. LP works with clients to understand the full impact of the law on their businesses and proactively addresses their legal issues so that they can quickly return to doing what they do best. While the firm possesses the resources and depth necessary to manage the most complex matters most efficiently and cost-effectively possible, it truly differentiates itself through its commitment to "The LP Way". Unique among corporate law firms, the LP Way is the firm's model for creating an unparalleled client experience at an exceptional value. Visit our website at www.lplegal.com and follow us on LinkedIn and on Twitter at @lplegal.
---