James Brusslan Presents in Green/LEED Building Opportunities Webinar
Event Time
2:00 PM - 3:00 PM
---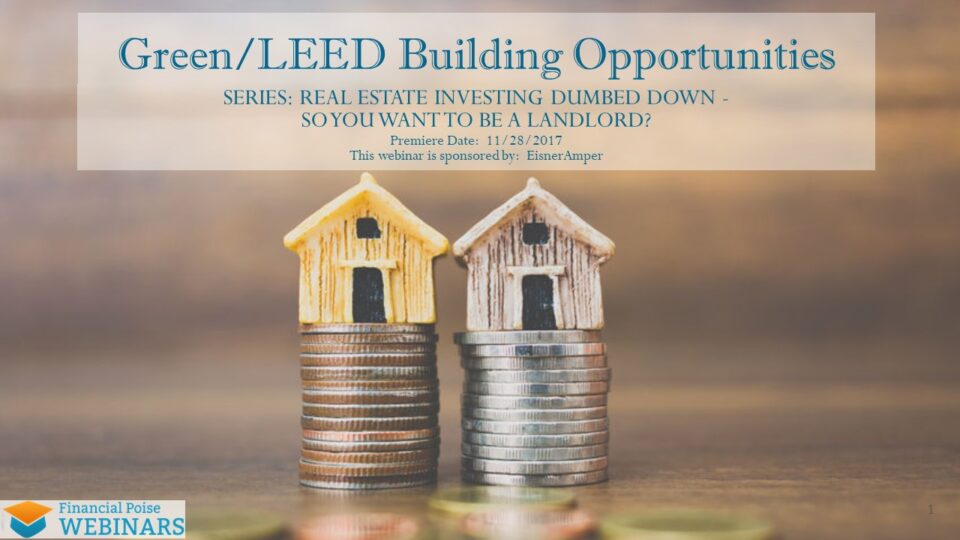 To listen to the On Demand Webinar, please click here.
Environmental Lawyer, James Brusslan participated in a Financial Poise Webinar "Green/LEED Building Opportunities."
Wouldn't it be great to be a landlord, rather than a tenant? Imagine just collecting money and depositing it into a bank account. Not only that, since the value of real estate never goes down, after a few years, just sell it and then live the life of Riley. Not so fast. The reality is, nothing is ever as simple as it looks. With income property ownership comes all sorts of responsibilities, issues, concerns and problems. Most of these can be handled with up front knowledge and preparation. The Real Estate Investing Dumbed Down – so you want to be a landlord? Financial Poise webinar series is designed to get would be landlords started on the road to wealth and financial security using the tremendous opportunities of commercial real estate. But be wary, there are bumps in the road.
The green movement is beginning to pick up steam and many buildings and landlords are starting to make modifications to their property to take advantage of the economic and marketing benefits associated with having a green building. But what does having a green building mean? This webinar explores what it takes to be "certified" as a green building and how to structure your leases in green buildings, how to maximize the effectiveness of your green strategy, and how to get your tenants and their employees to buy into the program.
To listen to the On Demand Webinar, please click here.
---