Chambers High Net Worth Guide Ranks LP Trusts & Estates Group Among Best in Illinois for 2019
---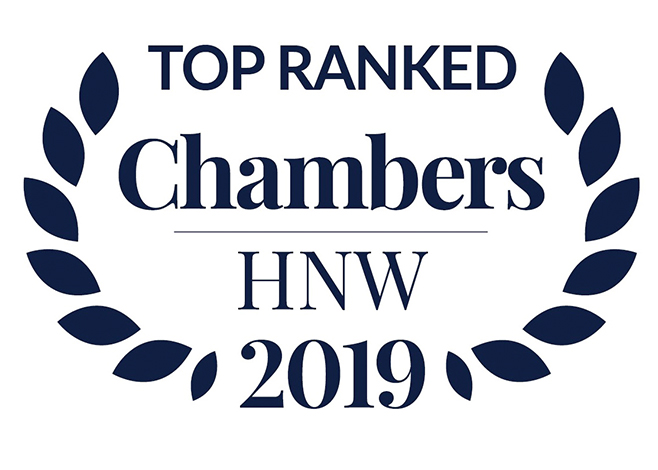 Levenfeld Pearlstein is pleased to announce that for the fourth consecutive year, its Trusts & Estates Group has been ranked among the best law practices in Illinois by the Chambers High Net Worth Guide. In addition to the team's Band 2 practice ranking for Private Wealth Law, LP Trusts & Estates partners Stuart Kohn, Robert Romanoff, Sheri Warsh, and Lauren Wolven are each ranked individually. Chambers High Net Worth Guide is the only legal ranking publication specifically aimed at the international private wealth market, gathering substantive feedback from clients and peers from across the nation.
Described by Chambers as a "very strong team" with "quality lawyers," by one commenter, and by another as "truly top-notch," LP's Trusts & Estates Group helps individuals and families achieve their business and personal planning goals, be it gift, charitable, or estate planning. Remarked one Chambers interviewee of the firm's Trust and Estates attorneys: "They are extremely knowledgeable, conscientious, organised, great communicators and constantly keep the goals and priorities of the client top of mind."
Stuart Kohn
Stuart leads the Trusts & Estates Group and concentrates his practice in estate, gift and income tax planning and business succession planning, and has significant experience with complex estate and trust administration matters. Lauding his calming approach for topics often uncomfortable for clients, Chambers observes that Stuart is an "amazing lawyer" who is "ahead of the curve," and "also very knowledgeable, has technical expertise and is very creative."
Robert Romanoff
Throughout his decades of trust and estate work, Rob has counseled high net worth individuals, owners of closely-held businesses, and their families on an array of estate, gift and income tax planning, and business succession planning. Rob is described by Chambers commentators as a "brilliant" lawyer who "can deal with difficult situations," and "one of those people you know who will deliver great technical expertise and be a great adviser."
Sheri Warsh
Sheri works with many high net worth clients on all aspects of wealth preservation and planning. One Chambers interviewee described Sheri as both "thoughtful and responsive," and another added, "she is wonderful, she has the technical expertise." Sheri is also the former head of the women's group at LP (LPW) and is committed to encouraging and inspiring the women at the firm to consider diverse perspectives to ultimately enhance LP's ability to deliver creative solutions to clients.
Lauren Wolven
Ranked by Chambers not only within Illinois but for the entire central United States, Lauren advises clients on succession planning, fiduciary litigation and trust and estate administration matters. Described by a commenter as "on her way to becoming a top estate planner in the city [Chicago]," Lauren is lauded as a "competent, practical and extremely smart," attorney who "knows how to get things moving" for her clients.
LP's trusts and estates clients routinely say they prefer working with LP because our attorneys are responsive, preach simplicity, and look at an overall picture of an individual's wealth instead of simply the matter at hand. This Chambers ranking, based in significant part on client feedback, is, above all else, a testament to our strong, trusted relationship with our clients.
---
Related insights