Words of Wisdom from a Kick-Ass Woman, Andrea Crews
---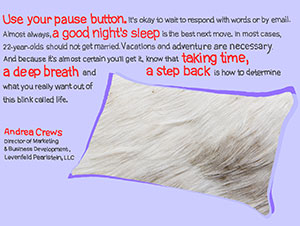 Marketing and Business Development Director Andrea Crews contributed to CBD Marketing's digital flipbook, "Words of Wisdom from Kick-Ass Women." Created to celebrate CBD's 25th anniversary as a women-owned business, the book is a compilation of quotes and advice from inspirational women. Fashion designers, business leaders and philanthropists all weighed in when asked:
"If you were in an elevator for a moment with the scrappy 20-year-old version of yourself, what would you say to her?"
Andrea responded:
The thing about women who kick ass is they don't need to be told to be confident, take risks, aim high, or appreciate challenges. Even the younger, scrappy, versions of these women know they are special, full of both drive and ambition, resolve and determination. Built with grit, this is a woman who can spot opportunity a mile away. She knows how to both set and achieve goals. So, to my 20 year old impatient self, I offer up the following piece of advice; Use your pause button.
It's okay to wait to respond with words or by email. Almost always, a good night's sleep is the best next move. In most cases, 22 year olds should not get married. Vacations and adventure are necessary. And because it's almost certain you'll get it, know that taking time, a deep breath and a step back is how to determine what you really want out of this blink called life.
An excerpt was featured in the ebook alongside responses from 30 other notable female leaders.
Mary Ann Ahern
Political Reporter
NBC 5 News, Chicago
Deb Giampoli
Director, Global Strategic
Agency Relations
Mondelez
Wendi Miles-Boykin
V.P., Marketing
Western Union

Melissa Bean
President & CEO
The Executives Club of Chicago
and former U.S. Representative,
Illinois
Susan Abbott Gidel
Owner
SusanGSays, LLC
Stacy Ratner
Founder & CEO
Open Books

LoriLee Sadler Bielski
Entrepreneur
Gamma Partners
Joan Gunzberg
Former Executive Director
Arts & Business Council of
Chicago
Aileen Robinson
Coordinator, Program Development
Chicago Police Department

Lee Botts
Founder
Alliance for the Great Lakes
Eugenie Johnson
Photographer
Nancy Ronquillo
President & CEO
Children's Home + Aid

Sarah Miller Caldicott
President & CEO
The Power Patterns of Innovation
Lisa Klotnia
Founder
Chicago Canine Rescue
Foundation
Paula Scheller
Director, Marketing
Communications
Firestone Building Products

Delmarie Cobb
President
The Publicity Works
Susan Kryl
President
Kryl & Company
Dana Schueller
Senior Marketing Leader
Mariano's

Sophia Reyes David
Fashion Designer
Sophia Reyes, LLC
Sherren Leigh
President & Publisher
Today's Chicago Woman
Pattie Cagney Sheehan
Founder
Second Act

Larisa Drake
Sr. Vice President, Marketing
Equity Lifestyle Properties, Inc.

Barbara Levine
Founder & CEO
Project B
Amy Shivvers
Director of Events
Crain's Chicago Business
Jessica George
Founder & Executive Director
Aparecio Foundation &
Hasana, Inc.

Rebecca MacKay
V.P., Strategy, Insights &
Planning
Dairy Management, Inc.
Joan Steltmann
Executive Director
Starlight Foundation
Dawn Geras
Founder & President
Save Abandoned Babies
Foundation
Kate Maddox
Executive Editor
BtoB MagazineRobin Winer
Director of Innovation
Reynolds Consumer Products
---