T&E Group, Two Partners Ranked in Chambers 2017 High Net Worth Guide
---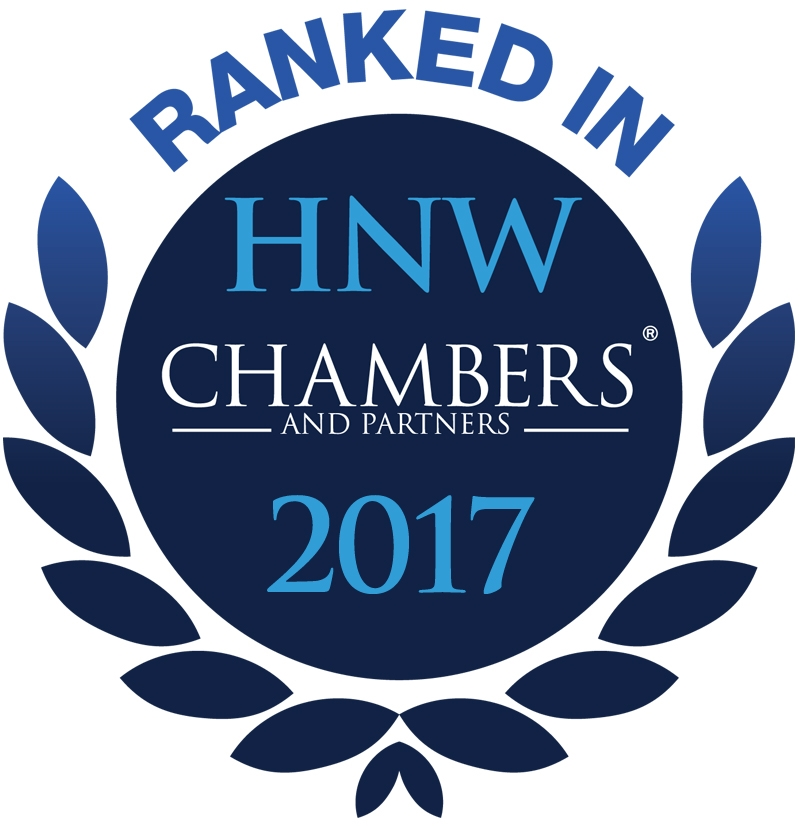 CHICAGO, September 19, 2017 – Levenfeld Pearlstein, LLC (LP) is pleased to announce that its Trusts & Estates Practice Group and two of the group's attorneys have been recognized for the second year in a row in Chambers USA High Net Worth Guide.
With a Band 2 ranking, LP was one of only seven firms recognized by the publication for private wealth law in Illinois, noting the firm's expertise in succession and estate planning, wealth structuring, and charitable giving. In addition, LP was the only mid-size Chicago firm to receive a Band 2 ranking, putting it in the same category as Katten Muchin, Kirkland & Ellis, Schiff Hardin, and Sidley Austin. Last year, LP was ranked Band 3.
When interviewed by Chambers, one client said this of LP's group: "They ask good questions, they're outstanding listeners, and they don't waste time. I've found them to be not only incredibly professional, knowledgeable in the intricacies of wealth preservation, but they're also responsive." Another market observer noted, "They understand the pace at which wealthy clients need to work, especially entrepreneurs, who require a quick turnaround time. They're proactive in suggesting tax strategies and they're very cognizant of the fact that most clients don't want overly complex planning structures in their lives."
In addition to the group's ranking, Managing Partner Robert Romanoff and Partner Lauren Wolven were named notable practitioners, as they were in 2016. Romanoff, who received a Band 2 ranking as well (up from band 3 last year), was lauded for his experience with ultra high net worth individuals on estate and business succession planning. One interviewee said, "Whenever you leave an engagement with Rob, you feel really good. You feel like you've accomplished something, like someone listened to you, and like there's a smart guy who cares."
The guide ranked Wolven as Up and Coming practitioner for Illinois Private Wealth as well as USA Private Wealth for the Central Region with one interviewee stating "She's somebody to watch." Lauren was noted as bringing "a lot of energy and creativity to client solutions. She's a very good listener and is very forthright in a very constructive and positive way."
Romanoff, Wolven, and Trusts & Estates Practice Group Leader Stuart Kohn are fellows of the American College of Trust and Estate Counsel (ACTEC). ACTEC is an invitation-only, flagship association of trusts and estate lawyers whose members meet the highest professional standards.
Chambers High Net Worth Guide covers private wealth management work and related specializations in key jurisdictions around the world, featuring in-depth editorial about the leading lawyers and law firms for wealthy individuals and families. Chambers HNW Guide also features listings and information about many of the top accountancy and tax firms, private banks, wealth management firms and multi-family offices acting for high net worth individuals.
For LP's complete Chambers USA recognition, please click here.
* * * * *
About Levenfeld Pearlstein LLC: Twice recognized by The National Law Journal as one of the nation's most innovative mid-sized law firms, Chicago-based Levenfeld Pearlstein, LLC provides legal and business counsel to sophisticated clients across a broad range of corporate, tax, real estate and litigation matters. LP works with clients to understand the full impact of the law on their businesses and proactively addresses their legal issues so that they can quickly return to doing what they do best.
While the firm possesses the resources and depth necessary to manage the most complex matters in the most efficient and cost-effective manner possible, it truly differentiates itself through its commitment to "The LP Way." Unique among corporate law firms, the LP Way is the firm's model for creating an unparalleled client experience at an exceptional value. This is accomplished by complementing outstanding legal work with a commitment to knowing the client; avoiding surprises; moving with speed and quality; and establishing and consistently beating client expectations. All of these grounded in the belief that every action should point toward a single goal: making the experience of being an LP client as rewarding as possible.
Visit our website at www.lplegal.com, and follow us on Twitter at @lplegal.
---