Sleeping Well in Seattle
---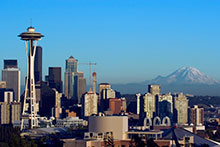 Peterson Sullivan LLP, a single-office accounting firm in Seattle, had a good thing going. Number 8 on the Puget Sound Business Journal's list of top accounting firms, it had more than 100 employees and a bustling practice. Which is to say it wasn't in need of a merger partner. But a marriage with one local competitor of similar stature—Clothier & Head, PS—made so much sense that they had to consider it. The two firms shared similar cultures, and Clothier & Head's deep expertise in hospitality, professional services, and construction all provided an ideal complement to Peterson Sullivan's existing offerings.
Such a combination would create the largest local Seattle accounting firm, however, any combination of two significant firms presents its own challenges. Completing the transaction would require the formation of an entirely new operating structure and partnership agreement, with both parties having a full say in negotiations. For the transformative transaction, Peterson Sullivan called upon Russell Shapiro of LP, who brings unparalleled experienced in accounting firm mergers and acquisitions, and partnership agreements.
Primary goals
Execute a combination between Peterson Sullivan and Clothier & Head, positioning the new combined firm as the largest local Seattle firm.
Combine strategically valuable practices from both Clothier & Head and Peterson Sullivan's and expand service offerings.
Concerns and issues
A combination of two significant firms usually requires a new partnership agreement.
Partners from both firms had a voice in the in drafting the new agreement.
What we did
Working closely with Peterson Sullivan, Russell led the firm's negotiations with Clothier & Head over both the combination agreement and the new partnership agreement. He took the lead in drafting both documents, which demanded an examination of details ranging from retirement benefits, capital requirements, department head assignments, restructuring the executive committee and identifying its members. Even the name of the combined firm was up for debate. Ultimately, the new firm retained the Peterson Sullivan name—just one of many potentially deal-breaking issues that the parties settled smoothly in the promising marriage.
When LP completed its work, the new Peterson Sullivan became the dominant Seattle firm, with more than 150 staff and $25 million in annual revenue. With its larger platform, the firm has greatly enhanced the services it can provide clients, and its attractiveness for the brightest accounting talent.
---