LP Recognized as Top Tax and Real Estate Firm by Chambers USA
---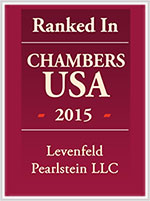 Levenfeld Pearlstein (LP) is pleased to announce that it has been recognized as one of Illinois' leading law firms in the 2015 Chambers USA guide. Once again, the firm ranked highly in the categories of Tax and Real Estate. In addition, five LP attorneys were recognized individually as leading lawyers in their areas of practice: David Berzon (Real Estate), Tom Jaros (Real Estate), Brian Kozminski (Real Estate), David Blum (Tax; Tax: Controversy), and Michael Tuchman (Tax).
"Chambers USA is among the most respected legal rankings in the marketplace, due in large part to its reliance on client feedback as a key component," said Robert A. Romanoff, Levenfeld Pearlstein's Managing Partner. "We are thrilled to be recognized once again by Chambers USA. Outstanding client experience is always our paramount priority at LP, and we're extremely proud that our clients recognize the high caliber of work and dedication the firm continuously strives to provide to their businesses."
In honoring the Tax Planning & Litigation practice, LP is described as a "…midsized tax practice noted for its expertise in a wide array of planning and controversy matters, including SALT issues and cross-border investment." A client commended the firm, noting, "they are broad thinkers who do a really nice job of working with the client and giving a full-service response."
Chambers cited LP's Real Estate practice as a "significant practice across development, financing, joint venture, and leasing transactions across the United States, as well as acquisitions and dispositions," and notes the firm's "particular expertise in the condominium and manufactured housing areas." A client characterized the practice as "very efficient" and mentioned "their practical application of the legalities into the real estate world is very strong." Another client also praised the group's attorneys, saying, "they are very responsive and they understand the business side of the deal."
Chambers USA also commented on LP's lawyers:
David Berzon handles sophisticated transactions involving joint ventures, financings and acquisitions. Sources appreciate that he "knows his way around all the issues and is able to cut through the baloney and find a middle ground to resolve an outstanding issue."
Tom Jaros is respected by clients for his ability to "work well with opposing counsel and obtain respect from everyone." He has expertise in a range of financing transactions, as well as related workouts and foreclosures.
Brian Kozminski is lauded as a "very intelligent, calm negotiator" who "finds creative solutions that bring the parties together without diluting his client's rights." He focuses on leasing work on behalf of landlords and tenants, particularly in the office building space.
Michael Tuchman, co-chair of the Tax Planning & Litigation group, is recognized for his work in sophisticated investment and real estate transactions. "He is really good – he knows what's going on with the client and does a really nice job servicing them," reports one impressed interviewee.
Tuchman's fellow co-chair, David Blum, is recommended for his expertise in tax controversies in addition to his planning and transactional work, and is routinely sought after for his advice on SALT. Sources say: "He's smart and meticulous; he digs into the issues and finds good solutions for his clients."
Chambers USA ranks U.S. law firms and individual lawyers annually based on in-depth telephone interviews with law firm clients and other attorneys. For more than 25 years, Chambers has published independent and objective research-based directories of the legal profession. The organization currently employs more than 150 full-time editors and researchers who interview thousands of lawyers and their clients around the world. Inclusion in the guide is based solely on the research team's findings. More information about Chambers USA can be found at www.chambersandpartners.com.
---