Events / Levenfeld Pearlstein - Chicago
Levenfeld Pearlstein to Host Greater Chicago Exit Planning Meeting
Event Date
October 29, 2015
Event Time
4:30 PM - 6:30 PM
Read Time
less than 1 minute
---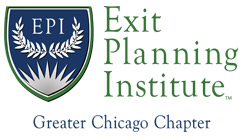 Peter Christman, co-founder of the Exit Planning Institute, will present a Master Planning process that will allow a business owner to maximize the value of their business, get planned personally from an estate, tax and financial point of view, and develop a life plan to achieve their personal and business goals and objectives.
Learning Objectives
Understand why business owners need a Master Plan.
Learn the process of Master Planning.
Who should be involved in Master Planning.
Describe the benefits of Master Planning.
Why business owners don't have a Master Plan.
For more information and registration, please click here
---