Levenfeld Pearlstein Recognized in U.S. News – Best Lawyers "Best Law Firms"
---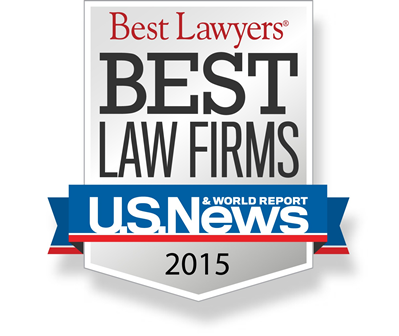 Levenfeld Pearlstein, LLC is pleased to that a number of its practice groups have been recognized nationally and locally in the 2015 edition of the U.S. News-Best Lawyers "Best Law Firms" guide.
LP earned the highest-possible recognition (Tier 1) in Chicago for the categories of Employment Law- Management, Real Estate Law, and Trusts & Estates Law. The firm was also recognized locally in the Litigation- Labor & Employment category. LP also garnered national honors in the Employment Law- Management (Tier 2), Trusts & Estates Law (Tier 2), and Real Estate Law (Tier 3) categories.
The U.S. News-Best Lawyers "Best Law Firms" rankings are based on a rigorous evaluation process that includes the collection of client and lawyer evaluations, peer review from leading attorneys in their field, and review of additional information provided by law firms as part of the formal submission process. To be eligible for a ranking in a particular practice area and metro region, a law firm must have at least one lawyer who is included in Best Lawyers in that particular practice area and metro. For more information on Best Lawyers, please visit bestlawyers.com.
About Levenfeld Pearlstein LLC: Recognized by The National Law Journal as one of the nation's most innovative mid-sized law firms, Chicago-based Levenfeld Pearlstein, LLC provides legal and business counsel to sophisticated clients across a broad range of corporate, tax, real estate and litigation matters. The firm possesses the resources and depth to manage the most complex matters, ensuring that the needs of all clients are met in the most efficient and cost-effective manner possible. Levenfeld Pearlstein's world-class attorneys work with clients to understand the full impact of the law on their business and proactively address their legal issues so that they can quickly return to doing what they do best.
Levenfeld Pearlstein also believes that doing right and doing well are inseparable, and, that it is the obligation of the firm and its attorneys to help others do what they do best. Levenfeld Pearlstein's commitment to corporate social responsibility and sustainability leads the legal industry and reflects its values and culture as a law firm. The firm's goal is to make a difference for its clients, in the community and on behalf of the individuals and organizations that are leading the way.
---