Levenfeld Pearlstein Elevates Four Attorneys to Partners
---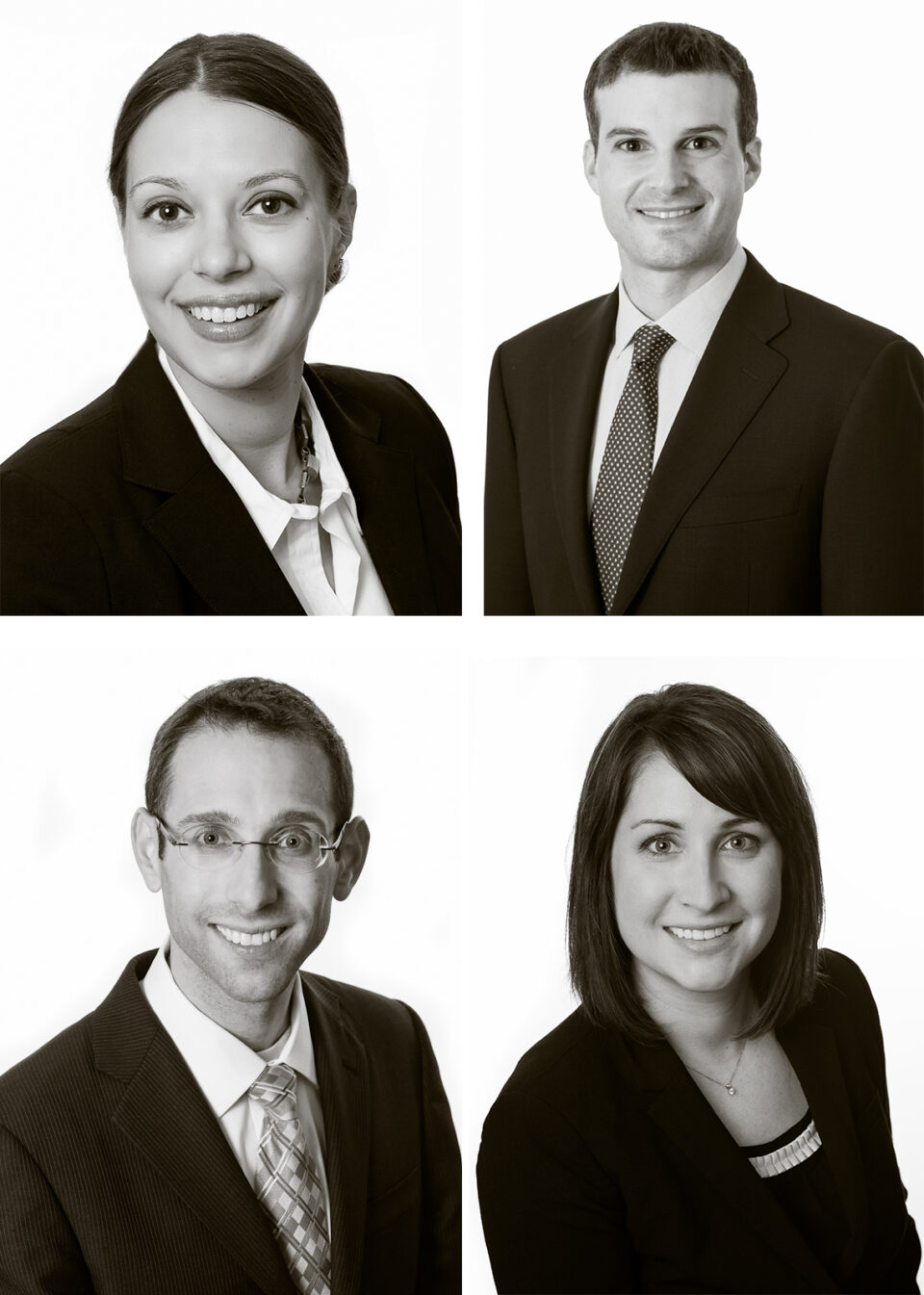 Levenfeld Pearlstein is pleased to announce that it has promoted Adam Garber, Christina Lutz, Linsey Neyt and Marc Zaslavsky to partner. Members of LP's Trusts & Estates, Litigation, Real Estate and Corporate & Securities Practice Groups, respectively, the four represent the diverse legal and business talent spread across the firm's practice groups.
"Adam, Christina, Linsey and Marc have all proven to be invaluable assets not only to their practice groups, but the firm as a whole," said Robert A. Romanoff, managing partner of Levenfeld Pearlstein. "Their drive and determination will continue to serve them well in their new role as partners."
A member of LP's Trusts & Estates Practice Group, Garber focuses on providing families with the tools necessary to transfer their assets from one generation to the next. His practice involves helping family business owners handle their daily challenges as well as plan for the succession of their businesses. Licensed as a certified public accountant as well as an attorney with an LL.M in taxation, Garber offers insight into tax issues as they relate to asset planning, and has extensive experience drafting wills, trusts, and other estate-planning documents. Garber received his J.D. from the Chicago-Kent College of Law in 2007 and an LL.M. in Taxation in 2008.
Lutz concentrates her practice in commercial litigation, where she has represented a variety of midsized business entities throughout the litigation process, from inception through trial and on appeal. With a strong foundation in general litigation, she has extensive experience in local government, real estate, tort, insurance, and employment law, representing municipalities, condominium associations, national retailers, and business entities of all sizes. Lutz graduated from the Chicago Kent College of Law in 2008 and was named a Rising Star in Illinois by Super Lawyers in 2016.
A member of LP's Real Estate practice group, Neyt represents commercial landlords and tenants. She has extensive experience in leasing, acquisitions and dispositions and development. In addition to spending several years in the real estate field, Neyt has experience in the public finance and municipal sectors, enabling her to bring a unique perspective to deal structuring and entitlement work. She earned her J.D. from Marquette University Law School in 2006 and has been instrumental in beginning a mentorship program with LP's Cristo Rey students.
Zaslavsky represents a diverse range of corporate and securities clients on transactional and contractual matters, including business formation, acquisition, disposition and corporate governance. His background in business law also includes significant exposure to a variety of litigation matters, including those involving bankruptcy, breach of contract, guaranty collection matters, commercial lease and other real estate disputes, breach of fiduciary duty claims, shareholder disputes, and post-judgment proceedings. He graduated magna cum laude from the DePaul University College of Law in 2009, and was named a Rising Star in Illinois by Super Lawyers in 2016.
* * * * *
About Levenfeld Pearlstein LLC: Twice recognized by The National Law Journal as one of the nation's most innovative mid-sized law firms, Chicago-based Levenfeld Pearlstein, LLC provides legal and business counsel to sophisticated clients across a broad range of corporate, tax, real estate and litigation matters. LP works with clients to understand the full impact of the law on their businesses and proactively addresses their legal issues so that they can quickly return to doing what they do best.
While the firm possesses the resources and depth necessary to manage the most complex matters in the most efficient and cost-effective manner possible, it truly differentiates itself through its commitment to "The LP Way". Unique among corporate law firms, the LP Way is the firm's model for creating an unparalleled client experience at an exceptional value. This is accomplished by complementing outstanding legal work with a commitment to knowing the client; avoiding surprises; moving with speed and quality; and establishing and consistently beating client expectations. All of these grounded in the belief that every action should point toward a single goal: making the experience of being an LP client as rewarding as possible.
---