Levenfeld Pearlstein Captures Legal Marketing Association's 2016 "Your Honor Award"
---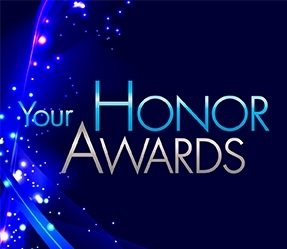 Firm presented with award at 2016 LMA National Conference for its innovative approach to lateral recruiting
CHICAGO, April 18, 2016 – Levenfeld Pearlstein is pleased to announce that it has been recognized by the Legal Marketing Association with the prestigious "Your Honor Award" for its development of a first-of-its-kind microsite focused on the firm's lateral recruiting initiative. LP Director of Client Services, Andrea (Crews) Maciejewski, accepted the First Place Award for "Website & Individual Portion" on behalf of the firm at the recent 2016 Legal Marketing Association National Conference in Austin, Texas.
In 2014, LP developed a video-intensive microsite ( http://joinlp.com), designed to give potential lateral hires as complete a picture of life at the firm as possible, enabling them to make more informed decisions regarding their interest in joining.
The idea for the site was born of the belief that as in most modern law firms, lateral recruiting is critical for LP, not just to attract talent, but also to bring in growing books of business. This makes it a task of paramount importance and a key business development strategy. LP also has a very well-defined culture—valuing transparency, accountability, collaboration and entrepreneurial thinking—that doesn't make it a good fit for everyone; and it happily remains a mid-sized firm, further magnifying the importance of each and every hiring decision. For these reasons and others, LP believed that the microsite could be an important resource for candidates, and serve as a vetting tool for the firm.
"We have always prided ourselves in aggressively pursuing innovative solutions to industry challenges, and this project in particular allowed us to do just that, while authentically communicating our core values to the marketplace," Maciejewski said. "We are thankful to the Legal Marketing Association for this recognition, and for their constant support of innovation and creativity in the legal marketplace."
About Levenfeld Pearlstein LLC: Twice recognized by The National Law Journal as one of the nation's most innovative mid-sized law firms, Chicago-based Levenfeld Pearlstein, LLC provides legal and business counsel to sophisticated clients across a broad range of corporate, tax, real estate and litigation matters. LP works with clients to understand the full impact of the law on their businesses and proactively addresses their legal issues so that they can quickly return to doing what they do best.
While the firm possesses the resources and depth necessary to manage the most complex matters in the most efficient and cost-effective manner possible, it truly differentiates itself through its commitment to "The LP Way". Unique among corporate law firms, the LP Way is the firm's model for creating an unparalleled client experience at an exceptional value. This is accomplished by complementing outstanding legal work with a commitment to knowing the client; avoiding surprises; moving with speed and quality; and establishing and consistently beating client expectations. All of these grounded in the belief that every action should point toward a single goal: making the experience of being an LP client as rewarding as possible.
Visit our website at www.lplegal.com, and follow us on Twitter at @lplegal.
---