Jason Hirsh Recognized in Law Bulletin Publishing Company's "40 Under 40"
---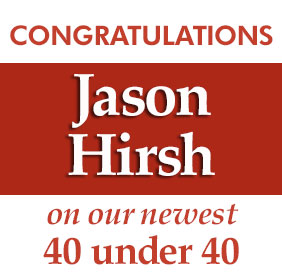 Hirsh becomes seventh LP attorney honored on prestigious list of Chicago's top young lawyers.
Levenfeld Pearlstein, LLC (LP) is pleased to announce that Jason Hirsh, a partner in its Litigation Group, has been named one of Illinois' "40 Illinois Attorneys Under 40 to Watch" for 2015 by Law Bulletin Publishing Company, publishers of Chicago Lawyer magazine and the Chicago Daily Law Bulletin. Hirsh, 36, becomes the seventh LP attorney honored with this recognition. He is featured along with other recognized attorneys in a special supplement to the publication, which is currently available.
Law Bulletin Publishing's "40 Under 40" is an annual survey conducted to determine the "up and comers" of law in Illinois. To maintain objectivity, attorneys cannot nominate themselves or attorneys from their own law firm, corporation or public entity. The strength of each nomination is evaluated based on a number of criteria, including the reputation of the nominator, the professional relationship between the nominator and the nominee, and the nominator's first-hand knowledge of the nominee's experience, skill, and character.
"While Jason has quickly made a name for himself as one of the most talented young attorneys in his field, his distinct level of energy and a dedication to his clients that exemplifies the LP Way, truly sets him apart from his industry peers," said Robert A. Romanoff, managing partner of Levenfeld Pearlstein. "We are elated that Jason has been awarded this recognition, and are proud to have him join the long list of other LP attorneys who have been honored previously."
LP has a strong tradition of recruiting and retaining Chicago's top young legal talent, as evidenced by their regular inclusion in Law Bulletin Publishing Company's "40 Under 40" list. Prior honorees include Corporate partner Michael St. Peter (2014); Labor & Employment partner Laura Friedel (2011); Real Estate & Finance partner Brian Kozminski (2009), Taxation partner David Blum (2007); Labor & Employment Practice Group Chair, Peter Donati (2006); Community Associations partner Howard Dakoff (2003).
In selecting Hirsh for its list, Law Bulletin Publishing Company noted that, "clients don't just enjoy working with Hirsh because he's proven to be a winning litigator, they do so because he also listens, speaks candidly, and always drives hard toward a swift and positive outcome."
Hirsh's practice is dedicated to complex business litigation, representing clients in corporate, real estate, and financial services related matters with a particular focus on restrictive covenant and trade secret litigation, and representing individuals and financial institutions in securities brokerage litigation and arbitration in the Courts and before the Financial Industry Regulatory Authority (FINRA). Jason is also a firm leader in e-discovery and has developed an expertise in advising clients in all aspects of e-discovery including both pre-litigation preparedness and litigation related management and solutions.
---