Five LP Attorneys Recognized in 2014 Chambers USA Guide
---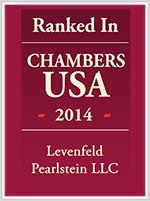 Firm's Real Estate and Tax Planning & Litigation groups also honored.
Levenfeld Pearlstein, LLC (LP) is pleased to announce that five of its attorneys have been recognized among Illinois' leading lawyers in the 2014 edition of Chambers USA: America's Leading Lawyers for Business. Three attorneys from the firm's Real Estate practice group, David Berzon, Tom Jaros and Brian Kozminski, are recognized, along with David Blum and Michael Tuchman of LP's Tax Planning & Litigation practice group. In addition, LP is recognized as one of Illinois' best law firms in the categories of Real Estate and Tax.
"While we don't often place much value on legal industry awards, Chambers USA has always been the exception, due to its rigorous and impartial research process, and the fact that client feedback plays a significant role in the survey's results," said Robert A. Romanoff, LP's Managing Partner. "Our firm is built on the foundation that each and every client deserves an outstanding experience in every interaction with LP. We are proud that our clients have recognized our efforts, and are honored to have the opportunity to contribute to their business success each day."
Chambers & Partners' staff of full-time researchers prepares legal directories that assess and rank the world's leading lawyers according to their reputations among peers and clients. The USA guide was introduced in 2003 and ranks the leading lawyers and firms in an extensive range of practice areas throughout the country. Chambers USA is read by industry-leading companies and organizations throughout the United States and worldwide, and is widely used by firms for referral purposes.
In recognizing LP's Real Estate practice, Chambers USA noted the firm ". . . prominent presence in the development, acquisition and disposition sphere," and its "strong real estate client base and significant experience in representing REITs." An LP client noted in the Guide that "they have a lot of talented attorneys who have a great understanding of the sector they work in and are very time-efficient."
Regarding the firm's Tax Planning & Litigation practice, Chambers USA cited LP as "a popular choice among a wide range of clients for both state and local lax controversy work and cross-border investment transactions," and noted its "longstanding experience in tax structuring." Clients praised the group for ". . . address[ing] the consequences and implications of certain structures from a thorough and thoughtful viewpoint," and for its "impressive client service . . . "
---