Expanding Extranets and Adding Client Value
---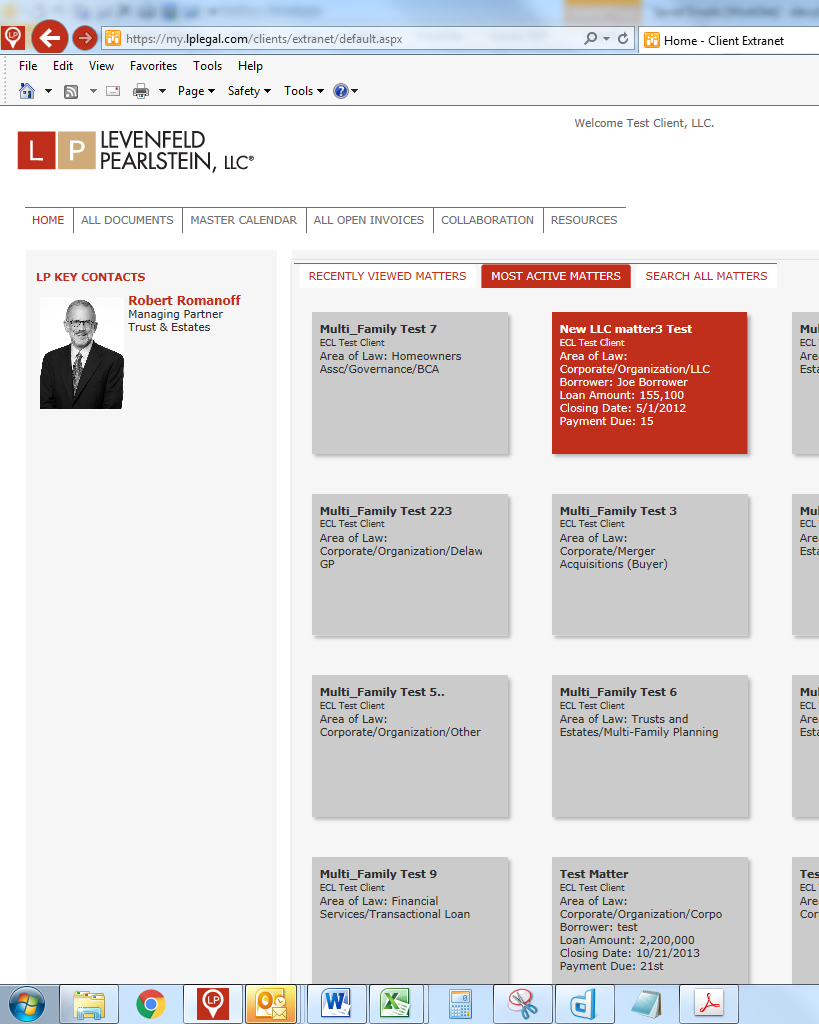 Innovation is the lifeblood of any business, but LP does not innovate for innovation's sake. In deciding whether to invest in new resources, develop new tools, or change the way LP does business, we always return to the most important question: will this innovation increase the value we deliver to our clients? If the answer is no, we stop.
When the answer is yes, however, we do not hesitate.
A few years ago, LP created a custom extranet for its condo clients using two readily available software solutions – SharePoint and Handshake. LP developed the condo extranet to give clients' immediate, round-the-clock access to their collection-related files. It allowed for the monitoring of collection lawsuits, provides on-demand legal answers to last-minute questions before HOA meetings, and includes updated information on financials, reports, and ongoing tasks. By creating this resource, we curtailed a mad dash to respond to last-minute requests that were an unnecessary hassle for clients who needed immediate access to their case files and documents.
Expanding Innovation
Knowing how useful this resource was to our condo clients, we knew there were additional, innovative ways to implement its use across other LP practice areas. We realized that the characteristics of our extranet, which made it valuable to an individual practice group with multiple clients, could make it equally valuable to an individual client that calls on multiple practice groups within LP. Acting on that insight, LP solicited feedback from an institutional, high-volume client in the financial services industry. This client was thrilled to be our beta tester and help us develop an extranet solution that would best meet their wants and needs. They were even more thrilled with the end result when this dedicated extranet was rolled out in December 2013.
While there were custom features created specifically for this client in mind, many other features were designed in a scalable fashion so they could be leveraged in the future for other clients. With this multi-client extranet template in place, LP has now created the tools to deliver immediate, custom extranets for an unlimited number of clients.
Results
We have rolled out extranets for more than three dozen of our clients to date. Based on the stats we can capture, we know it has become a valuable, reliable resource. Over the last 12 months, our clients had more than 9,500 page clicks in their extranets, with some clients routinely logging in and accessing their documents on a daily basis. Until now, our transactional clients have been the biggest beneficiaries of extranet implementation; however, the flexibility of the new multi-client extranet template has allowed LP to begin offering extranets to Trusts & Estates and Intellectual Property clients as well.
The time savings for our clients who are now able to securely access their documents or other resources online without assistance, not to mention the time saved by our attorneys and paralegals, has been significant. The experience of partner Bill Schwartz might say it best. During the launch of the extranet to our financial services client, in a room full of our client's employees, "Our principal contact noted that 'we are never going to be able to leave your firm now because this is so valuable.'" Bill asks: "Is there any better testimony to client value than this?"
No there isn't, and that is why we innovate.
---