Elizabeth O'Brien Recognized Among Chicago's Legal Stars in Law Bulletin Publishing Company's "40 Under 40"
---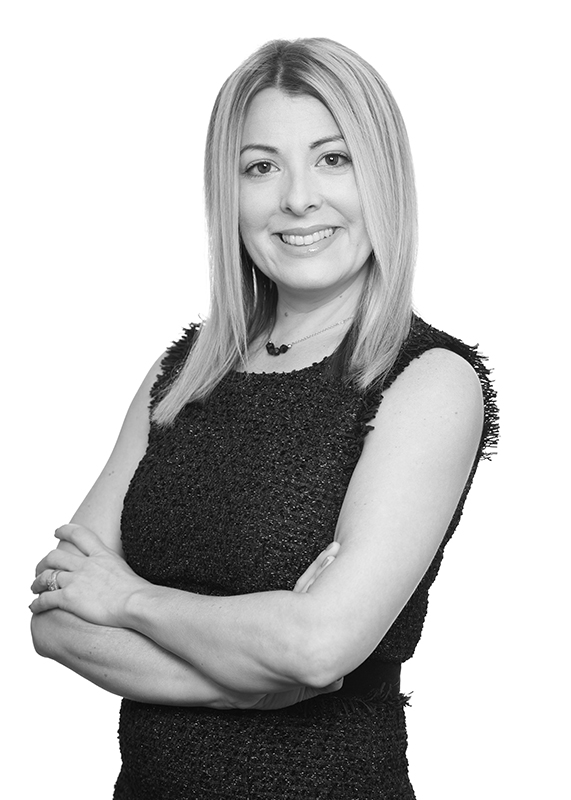 O'Brien becomes LP's eighth attorney honored on the prestigious list of Chicago's top young lawyers.
Levenfeld Pearlstein, LLC (LP) is pleased to announce that Elizabeth O'Brien, a partner in its Real Estate Practice Group, has been named among Illinois' "40 Illinois Attorneys Under 40 to Watch" for 2017 by Law Bulletin Publishing Company, publishers of Chicago Lawyer magazine and the Chicago Daily Law Bulletin. O'Brien becomes the eighth LP attorney honored with this recognition. She is featured with other recognized attorneys in a special supplement to the publication, currently available.
Law Bulletin Publishing's annual "40 Under 40" survey identifies and features the "up and comers" of law in Illinois. To maintain objectivity, attorneys cannot nominate themselves or attorneys from their own law firm, corporation, or public entity. The strength of each nomination is evaluated on several criteria, including the reputation of the nominator, the professional relationship between the nominator and the nominee, and the nominator's first-hand knowledge of the nominee's experience, skill, and character.
In selecting O'Brien for its list, Law Bulletin Publishing Company noted that one client described her as someone who "can find solutions to the legal problems and to the people problems that so often hold up a transaction. She has always found a way to get us to the finish line in record time."
O'Brien has extensive experience in the acquisition, disposition, development, and leasing of commercial and industrial real estate. She has counseled local and national developers on contract drafting and negotiation, construction financing, retail, office and industrial leasing, deal structuring and title and survey clearance. When it comes to working on real estate transactions, she enjoys the sense of being part of something bigger, whether it is the deal that marks the beginning or the end of an era for a client or the development of a grocery-anchored shopping center in a food desert that brings job opportunities to the community.
When not helping business owners, O'Brien has served as a mentor through the Chicago Bar Association's student-mentoring program for high-school students. She is also an active member of CREW Chicago (Commercial Real Estate Executive Women of Chicago), where she is currently a member of the Scholarship Committee which works to financially support and empower young women majoring or concentrating in real estate or related real estate fields.
LP has a strong tradition of recruiting and retaining Chicago's top young legal talent, as evidenced by their regular inclusion in Law Bulletin Publishing Company's "40 Under 40" list. Past honorees include Labor & Employment partner Jason Hirsh (2015), Corporate partner Michael St. Peter (2014), Labor & Employment partner Laura Friedel (2011), Real Estate partner Brian Kozminski (2009), Labor & Employment partner, Peter Donati (2006) and Community Associations partner Howard Dakoff (2003).
"It is gratifying to once again see one of our attorneys recognized on this prestigious list of Chicago's up-and-coming legal stars," said Robert Romanoff, the firm's managing partner. "One of the primary tenets of our 'LP Way' business strategy is the recruitment and retention of top legal talent, and it speaks volumes that we have not only placed eight attorneys on this list through the years, but that Elizabeth joined LP less than one year ago."
*****
About Levenfeld Pearlstein LLC: Twice recognized by The National Law Journal as one of the nation's most innovative mid-sized law firms, Chicago-based Levenfeld Pearlstein, LLC provides legal and business counsel to sophisticated clients across a broad range of corporate, tax, real estate and litigation matters. LP works with clients to understand the full impact of the law on their businesses and proactively addresses their legal issues so that they can quickly return to doing what they do best.
While the firm possesses the resources and depth necessary to manage the most complex matters in the most efficient and cost-effective manner possible, it truly differentiates itself through its commitment to "The LP Way." Unique among corporate law firms, the LP Way is the firm's model for creating an unparalleled client experience at an exceptional value. This is accomplished by complementing outstanding legal work with a commitment to knowing the client; avoiding surprises; moving with speed and quality; and establishing and consistently beating client expectations. All of these grounded in the belief that every action should point toward a single goal: making the experience of being an LP client as rewarding as possible.
Visit our website at www.lplegal.com, and follow us on Twitter at @lplegal.
---