Chicago Energy Benchmarking Ordinance: Is Your Association in Compliance?
---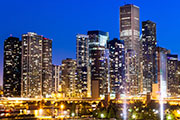 Is your condominium association building more than 250,000 square feet and located in Chicago?
If the answer is yes, then your association must come into compliance with the Chicago Energy Benchmarking Ordinance by August 1, 2015.  Buildings between 50,000 square feet and 250,000 square feet must be in compliance with the ordinance by June 1, 2016.
What is the Energy Benchmarking Ordinance?
In September 2013, Mayor Emanuel and Chicago's City Council adopted the Chicago Energy Benchmarking ordinance to raise awareness of energy performance through information and transparency, with the goal of unlocking energy and cost savings opportunities for businesses and residents.
The ordinance calls on existing municipal, commercial, and residential buildings 50,000 square feet and larger to track whole-building energy use, report to the city annually, and verify data accuracy every three years. For more details on the ordinance, visit the city's website. All covered buildings must benchmark energy use and report to the City of Chicago using ENERGY STAR Portfolio Manager, a free online tool available through the US EPA. Buildings that comply for the first time in 2015 must also have their data verified by an in-house or 3rd party individual who holds one of six credentials recognized by the city. Data verifier information must be included as part of each building's report to the city.
Does the Energy Benchmarking Ordinance apply to my building?
In April 2015, buildings required to come into compliance with the ordinance should have received a 2015 Chicago Energy Benchmarking notification letter from the City of Chicago; you can see a sample notification letter here.  Building representatives can also find out whether their properties are covered and/or request a Chicago Energy Benchmarking building ID online.
The Energy Benchmarking Ordinance applies to my building. What do I do next?
Follow the step-by-step Benchmarking Guide:
| | |
| --- | --- |
| 1. | The first step is to create a Portfolio Manager account and property profile by going to www.EnergyStar.gov/Benchmark. Click sign-up and enter the required account information. |
| 2. | Gather property information required by Portfolio Manager. |
| 3. | Set up the property in Portfolio Manager |
| 4. | Obtain monthly, whole-building energy use data for January – December 2014. This information can be obtained directly from ComEd and Peoples Gas. |
| 5. | Enter energy use data for all fuel types in Portfolio Manager along with the buildings Benchmarking ID. |
| 6. | Run the Data Quality Checker. |
| 7. | Verify building data by a recognized professional as provided in the Benchmarking Ordinance. |
| 8. | Add data verifier information to Portfolio Manager. |
| 9. | Report to the City of Chicago. |
The Chicago Energy Benchmarking Help Center is available to answer any questions at (855) 858-6878 (M-F 9am-5pm) and Info@ChicagoEnergyBenchmarking.org.
---
Related insights
June 29, 2022
City of Chicago Adopts New "Cooling Ordinance": What Do Chicago Community Associations Need to Know?
Read More
June 21, 2022
Can Condo Associations Rent their Activity Centers and Swimming Pools? Howard Dakoff Joins WGN's 'Chicago Afternoon News' to Discuss Hot Topics Facing Condo Owners and Boards
Read More