2013 Labor and Employment Law Checklist
---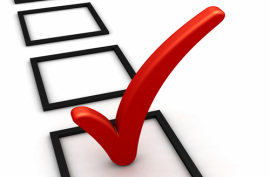 Each year, LP's Labor & Employment Practice Group is pleased to provide a short checklist of steps that all companies should consider taking in order to measure their readiness for the coming year. We hope that you find this 2013 Labor and Employment Law Checklist to be a helpful guide to best practices for the year ahead.
Comply with new "Facebook Laws." Illinois and Michigan now have laws that limit employers' access to their employees' social media accounts, prohibit "shoulder surfing," and penalize employers that require employees to provide log in information. Make sure that human resources personnel and managers are aware of and follow these rules.

Make sure policies comply with federal labor laws. The National Labor Relations Board ("NLRB") has increased its focus on non-union employer policies that could be read to "chill" employees' right to engage in concerted activity. At-will policies, social media policies, policies that prohibit negative comments about the company, coworkers or supervisors, and policies requiring employees to keep investigations confidential can all raise issues under labor laws if they aren't drafted carefully. Review policies with an eye toward whether they could be seen to discourage employees from working together to change employment conditions.

Don't discriminate against unemployed job applicants. Several states have passed laws prohibiting discrimination based on the fact that an employee is or has been unemployed, and there are similar laws pending in many other states and in Congress. Consider whether such a law applies in your state before considering unemployment status as part of employment decisions.

Audit compensation practices. We expect continued focus on minimum wage, overtime, and wage payment laws in 2013. The same goes for pay discrimination claims – which the EEOC has targeted for the coming year. Also for 2013, 10 states (AZ, CO, FL, MO, MT, OH, OR, RI, VT & WA) increased their minimum wage. If you have California employees who are paid on commission, make sure that you have a written contract that includes all the requirements of the newly-effective state law. New York employers need to confirm that they are providing the required notice under the Wage Theft Protection Act to all employees by February 1st. All employers should review compensation practices to confirm that you are calculating and paying wages as the law requires.

Revisit Social Media Policies. Social media law is changing so quickly that a policy drafted a year ago may already be obsolete or unenforceable. Review your social media policy in light of the guidance issued by the NLRB. Also make sure that you're taking advantage of your social media policy to protect your right to company social media accounts if an employee responsible for a company account were to leave.

Consider mandatory arbitration. Several courts across the country have recently upheld arbitration agreements that prohibit class claims. Whether mandatory arbitration agreements are the right option for your company depends on a number of factors, including your industry and employee population, but any employer concerned about class action litigation at least should consider mandatory individual arbitration.

Be deliberate in requesting and acting on background checks. State and federal legislators and agencies keep tightening the restrictions on when employers may conduct certain types of background checks and how they may use the information they learn. Tailor background check requests to the particular position and consider criminal history on a case-by-case basis, taking into account the offense, how recent it is, and its relevance to the position.

Carefully consider accommodation requests. The scope of accommodations required by the Americans with Disabilities Act continues to expand. More and more employees are seeking extended leave as an accommodation after exhausting FMLA leave. Likewise, a recent case suggests that employees who request a vacant position as an accommodation may have to be given a preference for the position – even if there are more qualified candidates. Consider all accommodation requests on a case-by-case basis in light of these evolving standards and make sure that you engage fully in the interactive process.

Watch for new FMLA forms and regulations. New forms issued by the Department of Labor are tailored to specific types of leave requests and help simplify the FMLA's complicated notice requirements. You can access the new forms at http://www.dol.gov/compliance/laws/comp-fmla.htm under the heading "Recordkeeping." Also be sure to keep an eye out for final FMLA regulations on leave for qualifying exigencies and service member caregiver leave.

Keep your non-compete and non-solicit agreements updated. The law relating to non-compete and non-solicit agreements is constantly evolving. For example, New Hampshire passed a new law requiring that employees be given specific notice of non-compete provisions at the time they are offered employment. Also, several courts handed down decisions in 2012 on the issue of whether forum selection clauses in such agreements are enforceable (they often are, even in California). It is a good idea to review your agreements for each state where you do business at least every two years.

Get ready for 2014 Heath Care Reform mandates. Both the employer "pay or play" and the individual coverage mandates take effect in 2014. New policy rules (e.g. no preexisting conditions) and state insurance exchanges will also debut in 2014. To avoid penalties, employers who employ the equivalent of at least 50 full time employees must offer coverage that is affordable and adequate. Determining the number of equivalent full time employees (≥30 hours/week or 130 hours/month) is complicated under IRS regulations. So, whether large or small, employers must plan this year for the impact of health care reform in 2014.
This checklist is for informational purposes only. It is not intended to and does not create an attorney/client relationship.
---